Smoked Meat German Onion Pie
by Editorial Staff
German Onion Pie is a savory pastry in the form of an open tart filled with delicious onion and smoked meat filling. There are a lot of onions in the filling, it is he who is the main ingredient, but you should not worry – after preliminary heat treatment, the onions become absolutely not bitter.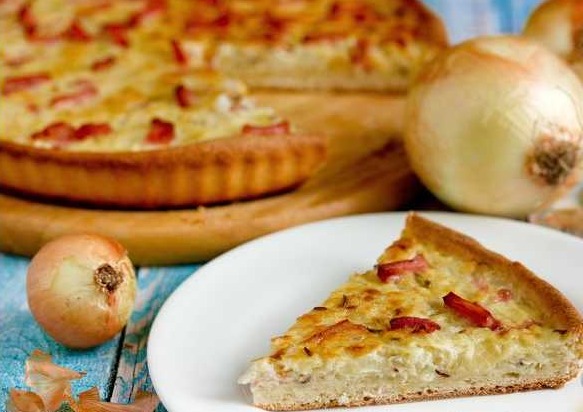 Servings: 6
Cook: 1 hour 50 minutes
Ingredients
For the dough:
Flour – 125 g
Butter – 25 g
Milk – 75 ml
Dry yeast – 3 g
Salt – 0.5 teaspoon without slide
Sugar – 0.5 teaspoon
For filling:
Onions – 250 g
Butter – 25 g (for onions) and 10 g (for baking)
Smoked meat – 50 g
Cumin – 0.25 teaspoon
Salt – 0.5 teaspoon without slide
Egg – 1 pc.
Cream of any fat content – 50 ml
Flour – 0.5 tablespoon.
Directions
Pour salt, sugar and yeast into warm milk. Stir.
Pour flour into a bowl, pour in the dough and melted and cooled butter.

Knead the dough, put it in a ball and, covering the bowl with a clean kitchen towel, put in a warm place for proofing for 1 hour.
While proving the dough, prepare the pie filling. To do this, peel and cut the onions into small cubes.
Melt the butter in a skillet or saucepan, send the onion there and cook over medium heat until the onion is soft and transparent. The onions should not become ruddy, in no case should they be fried, they should rather be stewed. Season the onions with salt while cooking.
When the onion is clear and soft, dust it with flour.
Stir the onion, heat for a minute and remove from the stove.
Cut any smoked meat into strips.
Combine the egg and cream in a bowl, mix with a fork.
In another bowl, combine the onion, 3/4 of the smoked meat, the egg-cream mixture and the cumin.
Stir. The onion pie filling is ready.
Pound the matched dough.
Roll out the dough into a layer and put it in a mold, forming a side about 1.5-2 cm high. (I baked a cake in a silicone mold with a diameter of 24 cm.)
Spread the filling over the dough.
Spread the remaining smoked meat and pieces of butter on top.

Bake the onion pie in an oven preheated to 180 degrees for 40 minutes.
Transfer the finished pie with onions and smoked meat to a platter and let it cool.
German onion pie is ready to serve. This cake is traditionally served with beer, but it is no less tasty with any other drink.
Bon Appetit!
Also Like
Comments for "Smoked Meat German Onion Pie"