Sous Vide Steak
by Editorial Staff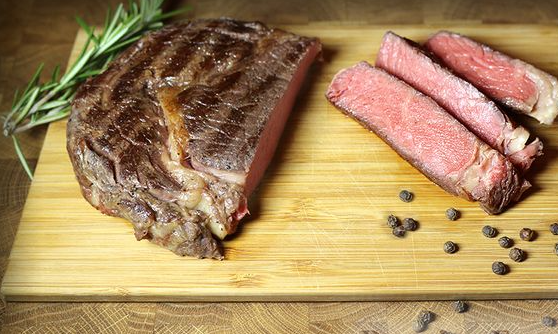 Sous vide is a cooking method in which food is placed in a plastic bag without air access and slowly cooked at a precisely controlled temperature, most often in a water bath. It is worth noting that the equipment for this cooking method costs a lot of money. In this recipe, I'll show you how to make a rib-eye steak. Thanks to this method of preparation, you can get a result that is not much inferior to the original sous-form, but it is not necessary to have expensive equipment. Try it!
Ingredients
Ribeye steak – 500 g
Butter – 30 g
Rosemary – twig
Thyme – 3 branches
Garlic – 4 cloves
Salt to taste
Freshly ground black pepper – to taste
Directions
We take the steak. I am using ribeye. We take it out of the vacuum package. Dry it with a paper towel on 2 sides to remove excess moisture from the surface. Add the steak well. We do this from 2 sides. And also, without hesitation, we pepper it. We repeat this procedure from the reverse side. We collect the spices with their ends, which are scattered around.

We take a bag with the possibility of airtight closure (I use a regular food bag with a ziplock). Place the steak in a bag. We take about 30 g of butter and put it in a bag with a steak. For additional flavor, we use a standard, in my opinion, set of steak seasonings – put a sprig of rosemary and a few sprigs of thyme in the bag. We peel 4 cloves of garlic and crush them with a knife so that they give better juice. Place the garlic in a bag with the steak, oil, and herbs.

In order to get rid of excess air in a bag with a steak, we need a container of water. We put a bag of steak into it and expel excess air. Having driven the air out of the bag as much as possible, close the zip lock.
We put a pot of water on fire. We immerse a bag of steak in it. For constant temperature control, lower the probe of the culinary thermo into the same pan. In order for the water in the pan to warm up evenly, stir it regularly with a spoon.

The steak must be held in a pot of water for 30 minutes. The water temperature needs to be 58 degrees to get the right, medium roast. After the specified time has elapsed, remove the bag from the pan. We get the steak out of it. At this stage, you shouldn't be confused by the fact that the steak looks like a piece of cooked meat, as it should be.
Dry the steak with a paper towel. We put it in a hot frying pan. It would be better to use a grill pan, then it will leave characteristic stripes on the steak. Fry it for 30 seconds on each side. At this stage, we just set the crust, because the inside of the steak is already completely ready. After a minute, remove the steak from the pan. We give him a rest.
Enjoy your meal!
Also Like
Comments for "Sous Vide Steak"