Chicken Breast Sous Vide
by Editorial Staff
Su-vide is a method of non-contact cooking of products in vacuum packaging. More and more supporters of this method are becoming in our country. The dishes prepared using the sous vida method are very juicy, tender and bright!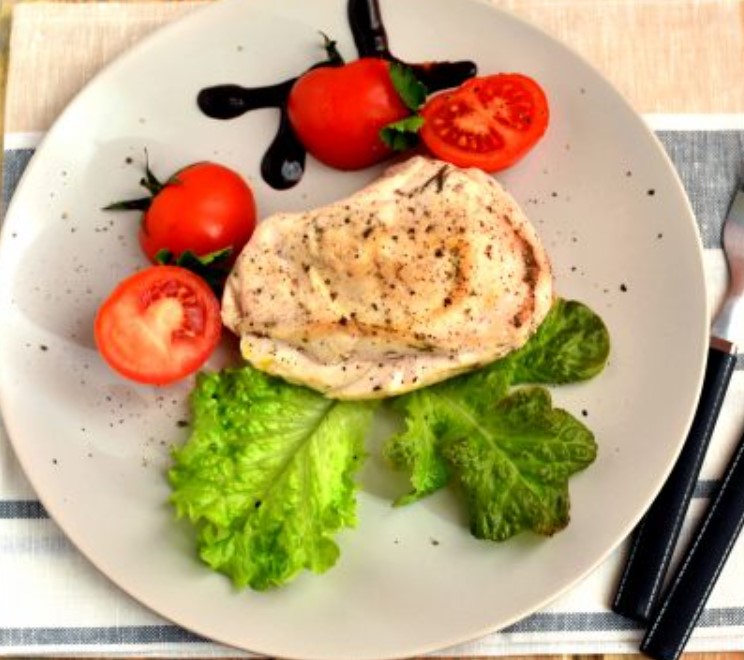 Cook: 2 hour
Servings: 2
Ingredients
Chicken breast – 1 Piece
Sugar – 1 Teaspoon
Salt – 1/2 Teaspoon
Pepper Blend – 1/2 Teaspoon
Marjoram – 1 Teaspoon
Rosemary – 1 Piece (1 sprig)
Lemon – 1 Slice
Directions
Products for the dish. Plus a zip bag, cocktail tube and multicooker.
Cut the chicken breast into fillets and rub with herbs and spices. Rub with your hands on all sides. Cut a thin lemon slice in half and place on top of the fillet.
Take a zip-lock bag and place both fillets in it. Add a sprig of rosemary. Pour cold water into a suitable container and lower the bag so that the fillets are below the water level. The water will force air out of the bag. Insert the cocktail straw into the corner of the bag and close the clasp to the straw. Squeeze the rest of the air with your hands and quickly pull out the tube, fastening the lock to the end.
If done correctly, the bag will fit snugly around the contents.
Put the package in the multicooker bowl, fill it with cold water and set the cooking temperature to 65 degrees. The time will depend on the weight of the fillet. For a medium breast, 2 hours is enough.

After two hours, gently open the bag and pour a small amount of broth into a bowl. The broth is very rich and tasty, and can be used to make an excellent sauce.
And the breast can be served immediately as a dietary meal.
And you can very quickly brown the fillet in a well-heated frying pan, so that an appetizing crust appears.
Serve the tender breast with your favorite side dish.
Bon Appetit!
Also Like
Comments for "Chicken Breast Sous Vide"