Stew of Beef and Vegetables with Potato Crust
by Editorial Staff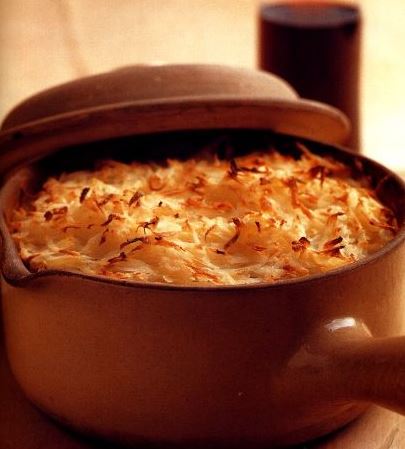 There is no price for such complex dishes, because meat and vegetables are served on the table in the same form, and even under a potato cap.
Servings: 4
Ingredients
Beef (diced) – 680 g
Dry red wine – 300 g
Juniper berries (crumbled) – 3 pcs.
One strip of orange zest
Olive oil – 30 g (2 tablespoon. L.)
Onions (cut into slices) – 2 pcs.
Carrots (cut into pieces) – 2 pcs.
Garlic (crushed) – 1 clove
Champignon mushrooms – 230 g
Beef broth – 150 g
Corn starch – 30 g (2 tablespoon. L.)
Salt to taste
Ground black pepper – to taste
For potato tops:
Potatoes (chopped on a coarse grater) – 450 g
Olive oil – 15 g (1 tablespoon. L.)
Horseradish sauce – 30 g (2 tablespoon. L.)
Cheddar cheese (shredded on a grater) – 50 g
Salt to taste
Ground black pepper – to taste
Directions
Put the meat in a non-metallic bowl, pour over the wine, add juniper berries, orange peel, salt, and pepper to taste. Mix everything well, and then cover and refrigerate for at least 4 hours, or better overnight.
Turn on the oven to preheat to 160 degrees. Remove the meat from the marinade and transfer to another bowl (do not pour out the marinade).
In a large cast-iron saucepan (cauldron) heat the olive oil put the meat in the hot pot, and fry for about 5 minutes. Then add onions, carrots, and garlic to the cauldron, fry for about 5 minutes more. Put the mushrooms in a saucepan, pour over everything with wine, beef broth, and the reserved marinade. Boil.
In a separate bowl, dissolve the starch in a little water. Introduce this mass into a cauldron with meat and vegetables, salt and pepper the mixture to taste, then cover and cook the beef stew with vegetables for about 1.5 hours.
Cook the potatoes 30 minutes before the ragout is ready. Blanch the potatoes chopped on a grater in boiling water for 5 minutes, and then put in a colander and let the liquid drain completely.
Transfer the potatoes to a saucepan, add olive oil, horseradish, cheese, salt, and pepper, mix well. Put the potatoes in a cauldron on the meat and put in the oven, cook the beef stew with potatoes at 200 degrees until golden brown.
Also Like
Comments for "Stew of Beef and Vegetables with Potato Crust"