Stewed Cabbage with Smoked Meat
by Editorial Staff
Cooking this dish will take you no more than 30 minutes, and the cooking itself is within the power of any novice cook. So, let's cook together stewed cabbage according to a new recipe with a unique aroma and taste that will definitely drive any man crazy.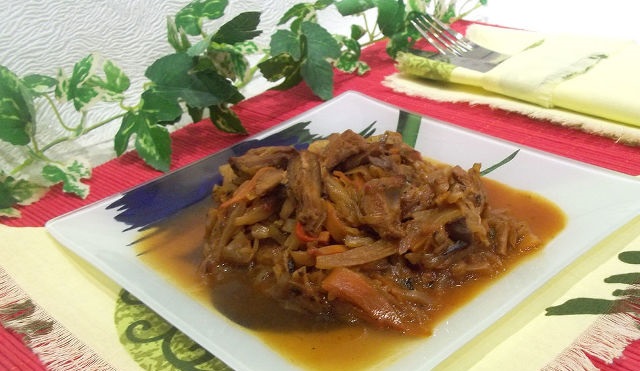 Ingredients
White cabbage – 1 pc. (medium size)
Carrots – 1 pc.
Sweet red pepper (Bulgarian) – 1 pc. (medium size)
Smoked chicken leg – 1 pc. (can be replaced with any smoked meats: hunting sausages, balyk, raw smoked sausage)
Tomato paste – 2-3 tablespoons
Refined vegetable oil – for frying (can be replaced with olive or lard)
Bay leaf – 5 pcs.
Ground black pepper – to taste
Allspice peas – 5 pcs.
Salt to taste
Directions
Wash the cabbage, remove the top leaves, as they are often dirty, and chop finely. Then pour oil into the pan and heat it well, then send the cabbage to fry. Electrical appliances, if available, will help you speed up the process of cutting vegetables. For example, I use a food processor.
Cook the cabbage for about 10 minutes, stirring occasionally.

In the meantime, peel the carrots and cut them into thin strips, or grate. But it is better to cut it, then it will be whole and its taste will not be lost in the dish. Wash the red bell pepper, cut off the tail, remove the seeds, and cut the pulp into strips. Send carrots and peppers to the frying pan to fry the cabbage.

Cut the smoked chicken leg into large pieces and immediately put it to fry with all the vegetables.
Also add tomato paste, allspice peas, bay leaf, salt, and black pepper.

Mix everything well, pour in 150 grams of drinking water, and cover the pan with a lid. Simmer cabbage for 20 minutes over low heat, stirring occasionally.
Everything, the cabbage is ready, all bon appetit!
Also Like
Comments for "Stewed Cabbage with Smoked Meat"