Sunflower Seed Pate
by Editorial Staff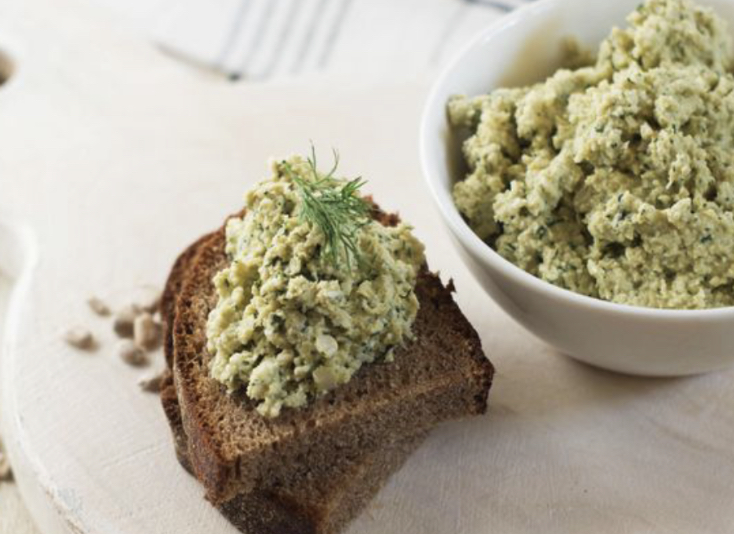 A very interesting and unusual appetizer that is perfect for a lean table is a light pâté from sunflower seeds, with the addition of mustard and greens. It is extremely easy to prepare such a spread, based on the most affordable products. A great option for sandwiches or tartlet filling!
Ingredients
Sunflower seeds – 200 g
Mustard – 2-3 teaspoon (20 g)
Lemon (for juice) – 1 pc.
or lemon juice – 1-2 tbsp
Fresh dill – 4-5 branches (10 g)
Turmeric – 1/4 teaspoon
Salt – 1/2 teaspoon
Ground black pepper – on the tip of a knife
Directions
Prepare foods on the list.
If you wish, you can add cucumber, tomato, bell pepper, or boiled beets to such a lean paste, each time giving such a spread for sandwiches a new taste.
During the cooking process, you will need 100-120 ml of warm boiled water.
Pour the seeds into a saucepan, pour about 400-500 ml of water, put on the heat, and bring to a boil. Then skim off the foam, reduce heat to low, and simmer for about 15 minutes.
Place the boiled seeds in a sieve. After all the water has drained off, transfer the seeds to a plate and cool until warm.
Combine boiled seeds, mustard, turmeric, salt, black pepper in a blender bowl.
Squeeze about 1-2 tablespoon from the lemon. tablespoons of juice and add to the bowl.
Rinse the dill, chop finely with a knife and also send to the blender bowl.
Whisk on medium power for about 2-3 minutes, until smooth.

In portions, each time whisking in short pulses for about 30 seconds, pour in 100-120 ml of boiled water, until the most homogeneous mass and the desired thickness of the pate are obtained.
Lean sunflower seed pate is ready! It can be served immediately after preparation or stored in the refrigerator in an airtight container for about 2-3 days.
Important: sometime after storage, the pate may slightly exfoliate, separating the oils contained in it. If this happens, do not be alarmed – just stir the pate thoroughly and serve.
Enjoy your meal!
Also Like
Comments for "Sunflower Seed Pate"