Thai Noodles
by Editorial Staff
Let's add some east! Thai noodles are great and only take about 15 minutes to cook. We will cook noodles with chicken and vegetables over high heat.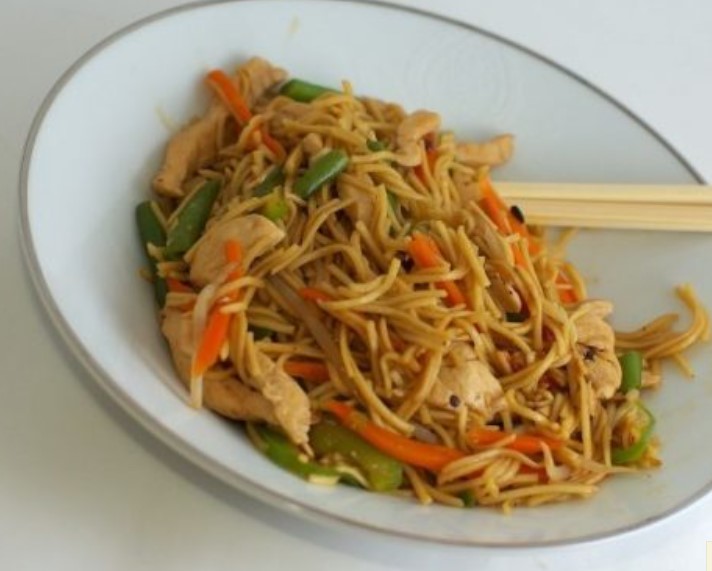 Cook: 20 mins
Servings: 2
Ingredients
Chinese noodles – 250 grams
Carrots – 1 Piece
Garlic – 3 Cloves
Bulgarian pepper – 1 Piece
Chicken fillet – 250 Gram
Frozen vegetables – 150 grams (for your taste)
Canned Beans – 100 Grams
Soy sauce – 3-4 Tbsp. spoons
Directions
Cut the chicken into thin strips.
Cut the carrots into the same strips.
Then we also chop the pepper.
And we defrost the vegetables we have chosen.
Then pour olive oil into a frying pan and put it on the highest heat. First, fry the chicken with finely chopped garlic.
Stir the chicken constantly, frying it for several minutes. Then add all the other vegetables and continue to fry over high heat for several minutes. Stir all the time !!

Chinese noodles are easy to prepare. Usually it is poured with boiling water and ready for use in 5 minutes. Therefore, do not miss the moment when you need to pour the noodles. And this should be done while frying vegetables 🙂 Then add the noodles to the pan, fill everything with soy sauce. Fry for just a minute and remove from heat.
Thai noodles are ready to eat.
Bon Appetit!
Also Like
Comments for "Thai Noodles"