Thai Vegetable Salad
by Editorial Staff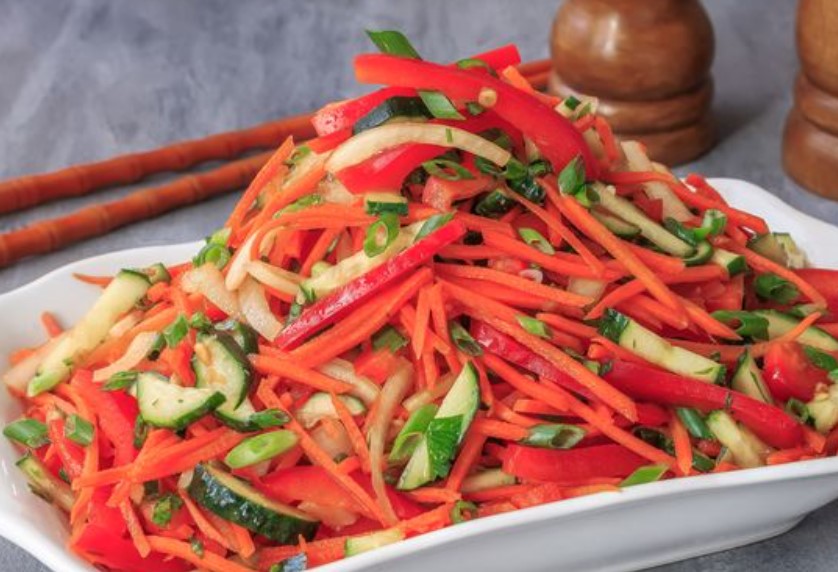 Fresh vegetable salad prepared in the style of Thai cuisine will pleasantly diversify the menu. Familiar vegetables will get a tempting and exotic flavor with the addition of a spicy dressing of vegetable oil, soy sauce, ginger, garlic, honey and lemon juice. Simple, fast, original and delicious! Try it!
Cook: 15 mins
Servings: 4
Ingredients
Carrots – 240 g
Bulgarian pepper – 250 g
Cucumbers – 220 g
Onions – 70 g
Green onion – 3 stalks
Fresh cilantro – 5 g (or to taste)
Hot pepper – 3 g (or to taste)
Salt – 1 pinch
For refueling:
Garlic – 1-2 cloves
Ginger (root) – 15 g
Honey – 1.5 teaspoon
Vegetable oil – 3 tbsp
Soy sauce – 2 tbsp
Lemon juice – 1 tbsp
Ground red pepper – to taste
Directions
Prepare your ingredients.

Cut the peeled carrots and cucumbers into strips. Peel the bell peppers from seeds and partitions and cut into strips. Cut the peeled onions into thin half rings. Peel hot peppers and chop finely. Finely chop the green onions and cilantro. Adjust the amount of hot pepper and cilantro to your liking.
Sprinkle the carrots with salt and gently remember with your hands so that they let the juice flow and become softer.
Peel the garlic and pass through a press. Peel the ginger root and grate on a fine grater. Combine all the ingredients of the dressing: vegetable oil, soy sauce, lemon juice, honey, chopped garlic, ginger and red pepper. Mix everything thoroughly.
Separate 1-2 pinches of green onions and save to garnish. Place the remaining herbs and chopped vegetables in a salad bowl. Pour in the prepared dressing and mix well.

Place the salad in a heap on a plate, sprinkle with the remaining green onions and serve.
Thai vegetable salad is ready.
Bon Appetit!
Also Like
Comments for "Thai Vegetable Salad"