Vegetable Stew with Eggplant, Zucchini and Cauliflower
by Editorial Staff
There is no meat or potatoes in this stew, but it is nutritious thanks to the many different vegetables. Vegetables exchange flavors and aromas during cooking. Such a stew with a pleasant, delicate taste is an excellent choice for fasting people, vegetarians, as well as lovers of a light and healthy lunch or dinner.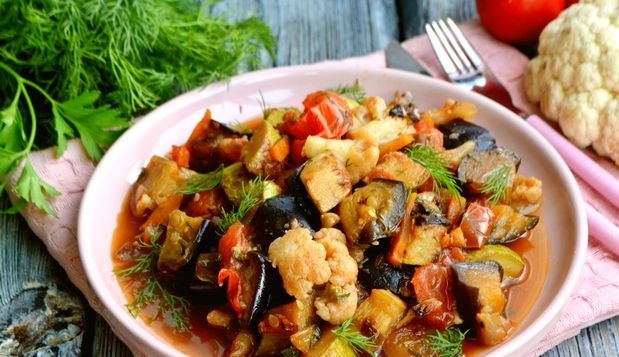 Cook: 40 mins
Servings: 4
Ingredients
Eggplant – 240 g (2 pcs.)
Zucchini – 120 g (1 pc.)
Cauliflower – 150 g
Sweet pepper – 100 g (1 pc.)
Tomato – 150 g (1 pc.)
Bulb onions – 100 g (1 pc.)
Carrots – 70 g (1 pc.)
Salt – 1 teaspoon (to taste)
Fresh dill – 2-3 branches
Fresh parsley – 2-3 sprigs
Vegetable oil – 3 tbsp
Directions
Boil 1 liter of water, add 0.5 teaspoons of salt. Disassemble the cauliflower into inflorescences and send to boiling salted water. Cook for 5 minutes after boiling again.
Then put the cabbage on a sieve, pour over cold water to stop the cooking process, and let the water drain.

While the cabbage is cooking, peel the onions and cut them into small cubes. Peel the carrots and cut them into cubes or grate on a medium grater.
Pour vegetable oil into a preheated pan and add carrots and onions. Fry, stirring occasionally, over medium heat for 3-4 minutes.

For a squash, cut off the ends on both sides. Peel sweet peppers from seeds and stalks. If the zucchini is young, you do not need to peel the skin. Chop the zucchini and peppers into large pieces.
Place bell peppers and zucchini in a skillet, stir and cook for 5-7 minutes.
Cut off the ends of the eggplant. Cut the eggplant into large cubes.
Add the eggplants to the skillet and cook for another 8-10 minutes.
Add cauliflower to the pan, stir.

Cut the tomato into large cubes. Finely chop the parsley and dill. Leave some greens for serving.
Add tomatoes, herbs, and remaining salt. Stir, pour in 100 ml of water, cover, and simmer the stew for 10-15 minutes until the vegetables are tender.
The vegetable stew with eggplant, zucchini, and cauliflower is ready. This vitamin bomb can be served immediately, sprinkled with herbs!)
A delicious, nutritious, and healthy meal that fits perfectly into your budget.
Bon Appetit!
Also Like
Comments for "Vegetable Stew with Eggplant, Zucchini and Cauliflower"