Vegetable Stew with Eggplant, Zucchini and Lentils
by Editorial Staff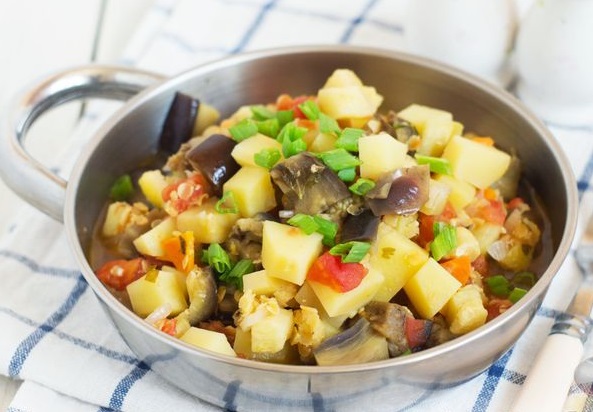 Light, but very satisfying vegetable stew made from a rich set of vegetables: eggplants, zucchini, tomatoes, potatoes, onions, and carrots. Adding red lentils to vegetables makes the stew more nutritious. A few slices of lemon will add a unique flavor to the dish.
Ingredients
Eggplant – 370 g (2 pcs.)
Zucchini – 340 g (1 pc.)
Red lentils – 50 g
Potatoes – 360 g (2 pcs.)
Tomato – 260 g (1 pc.)
Bulb onions (large) – 100 g (0.5 pcs.)
Carrots – 120 g (1 pc.)
Lemon – 1-2 circles
Salt – 1 teaspoon
Ground black pepper – on the tip of a knife
Garlic – 1-2 cloves
Fresh parsley – 3-5 g (1-2 branches)
Water – 400 ml
Vegetable oil (for frying) – 2 tbsp
Green onion (optional) – 1-2 feathers
Directions
Prepare the food you need.

Peel and rinse the onions and carrots. Cut the onion into thin quarter rings, carrots into quarters.
Heat vegetable oil in a skillet and add chopped vegetables. While stirring, fry for 3-4 minutes over low heat.
Rinse the zucchini, cut off the ends on both sides and the skin (if the zucchini is late harvest or the skin is damaged).
Cut the zucchini into cubes about 1 cm on side. Place the chopped zucchini in a skillet and fry with the onions and carrots, stirring occasionally, for 4-5 minutes.
Rinse the eggplants, cut off the ends, and cut into slices about the size of zucchini. Place the sliced ​​eggplants in a skillet.
While stirring, fry everything together for 5-6 minutes over low heat.
Rinse the tomato, make a cruciform incision. Pour boiling water over the tomato for 30-45 seconds, then discard in a colander and rinse with ice water. Carefully remove the skin from the tomato, cut the pulp into small cubes, and add to the vegetables.
Peel the potatoes, rinse and cut into small pieces, put in a frying pan.
Rinse the parsley, dry, and chop finely. Peel the garlic, chop finely. Cut the lemon slices into 4 pieces. Add parsley, garlic, and lemon to the vegetables. Stir and fry everything together for about 10 minutes.
Rinse the lentils, send them to the skillet, and pour in the water. Add salt and black pepper. Stir the contents of the pan, bring to a boil and cook over low heat for about 15 minutes, until the potatoes and lentils are fully cooked.

Serve the cooked vegetable stew with eggplant, zucchini, and lentils immediately after cooking. When serving, you can decorate each portion with chopped green onions.
Bon Appetit!
Also Like
Comments for "Vegetable Stew with Eggplant, Zucchini and Lentils"