Vegetarian Dumplings with Cauliflower
by Editorial Staff
Like any Russian person, I love pelmeni. However, I am a vegetarian. I thought for a long time how to make it delicious, and came up with the idea of ​​vegetarian dumplings in China.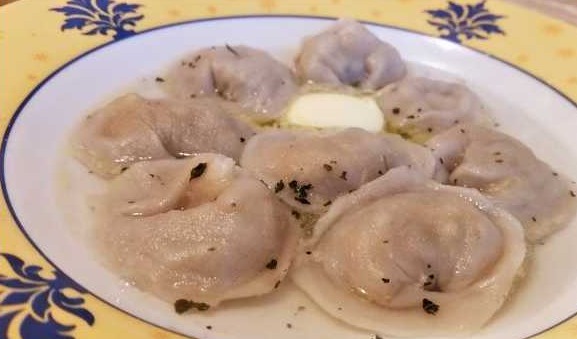 Servings: 2
Ingredients
For minced meat:
Cauliflower – 0.5 medium head
Onion – 1 head
Butter – 100 g + for frying
Vinegar, preferably homemade (blackberry in the photo) – 1 tbsp
Dried basil – to taste
Dried marjoram (gives the taste and aroma of meat dishes) – to taste
Salt to taste
Ground black pepper – to taste
For whole grain choux pastry:
Whole grain flour – 1 cup
Hot water – 0.5 cups
Salt – 1 teaspoon
Egg (added to the dough for subsequent freezing of dumplings) – 1 pc.
Olive oil – for lubricating hands
Directions
To prepare the dough, I pour flour into a bowl, add salt, mix, make a depression and pour boiled water into it. Using a spatula, I knead the dough, adding flour as much as the dough takes. If you want to make dumplings in reserve and freeze, then you need to add one egg. Otherwise, the dough will tear after freezing.
At the final kneading of the dough with my hands, I grease them with olive oil. I wrap the dough in plastic wrap and let it rest while I mince.
Peel the onion, finely chop and marinate with salt, black pepper, basil, marjoram and vinegar.
Finely chop the inflorescences of cauliflower with a knife, you can grate on the largest grater.
Heat a skillet with butter. Fry half of the cauliflower over high heat, stirring constantly. Cool down.
There are two options for minced meat: on the left – with raw cauliflower, on the right – with fried.
Combine and stir together the cauliflower, pickled onions and soft butter.
Minced meat for vegetarian dumplings is ready.

And then everything is as usual. Roll out the dough into a layer a couple of millimeters thick. Cut circles out of the dough. Put the minced meat on the dough circles.
Send salt, bay leaf, peppercorns, cloves and onions to a pot of water for cooking dumplings. Put on fire.

Now make dumplings.

And send the dumplings with vegetable filling to cook, literally for 3-4 minutes.
The most delicious vegetarian cauliflower dumplings are ready. Bon Appetit!
Also Like
Comments for "Vegetarian Dumplings with Cauliflower"