Asparagus with Salmon
by Editorial Staff
I present to your attention a recipe for a great hot appetizer – asparagus with salmon. The appetizer cooks in 15 minutes, looks cool and tastes amazing!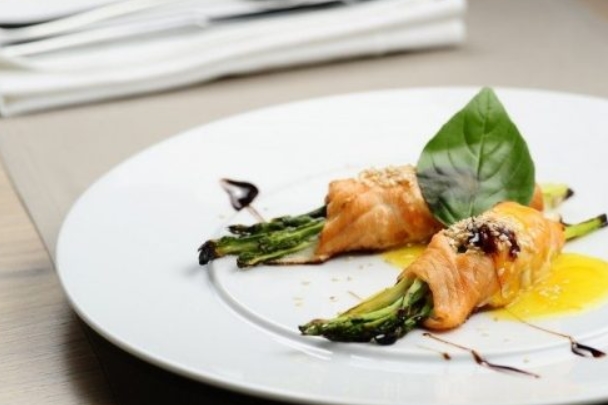 Servings: 1-2
Cook: 15 mins
Ingredients
Asparagus – 60 Grams
Salmon – 100 Grams
Orange – 1 Piece
Starch – 1 Art. the spoon
Butter – 3 Teaspoons
Sugar – 1 Tbsp. the spoon
Basil, sesame seeds, balsamic vinegar – To taste
Directions
We wash the asparagus and cut off the unnecessary tip.

We clean the asparagus.

And we cut it in half.
Pour some water into a saucepan. Salt.
Next, squeeze out the orange juice.
Remove the orange zest.
We combine juice and zest.
Combine starch with a small amount of orange juice and stir well.
Put the asparagus in boiling salted water. Blanching.
Put a spoonful of sugar in the mixture of juice and zest.
We take out the asparagus from the boiling water.
Then put the juice and zest on the fire. Bring to a boil and cook for 3 minutes.
Add starch. We mix everything.
Add a spoonful of butter and cook the sauce until thick.
Spread the asparagus on thin salmon plates.
We turn into a roll.
Put the rolls on a baking sheet covered with baking paper. Put a piece of butter on each roll.
And we send the asparagus with salmon to bake in an oven preheated to 180 degrees for 5 minutes.

Put the finished rolls on a plate, pour over the sauce, decorate with fresh basil, sprinkle with sesame seeds, add a little balsamic vinegar and serve.
Bon Appetit!
Also Like
Comments for "Asparagus with Salmon"