Autumn Colors Salad with Green Tomatoes (for Winter)
by Editorial Staff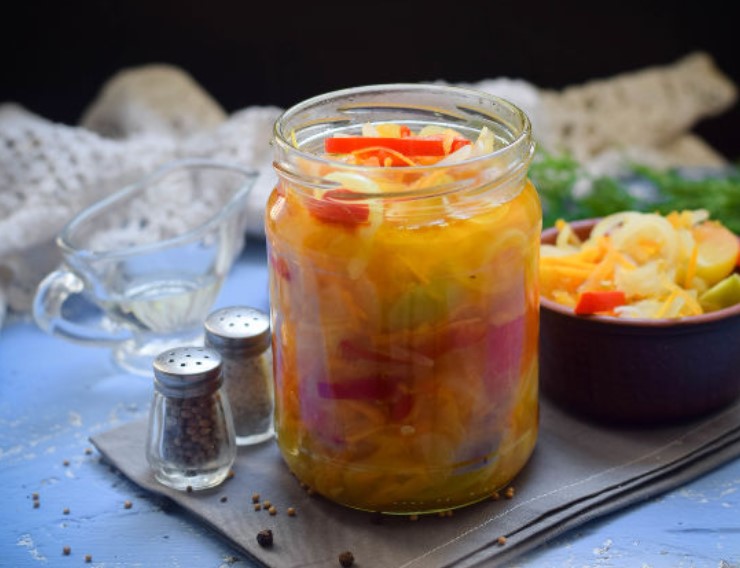 Green tomato salad for the winter "Colors of Autumn" is a very tasty vegetable salad with fragrant sweet peppers, onions and carrots.
Cook: 30 mins
Servings: 5
Ingredients
Green tomatoes – 1 kg
Bulgarian pepper – 500 g
Onions – 500 g
Carrots – 250 g
Vegetable oil – 125 ml
Vinegar 9% – 4 tbsp
Sugar – 2 tbsp
Salt – 1 tbsp
Water – 1/4 cup
Black peppercorns – 4-6 pcs.
Directions
Prepare all ingredients according to the list. Bell peppers can be taken in different colors, it will turn out beautifully.
Put a saucepan with thick sides and bottom over medium heat. Pour oil into the bottom of the pan. Peel the onion and chop into half rings. Place the onion in a saucepan and fry for a few minutes.
In the meantime, prepare bell peppers – peel, wash and dry. Cut into strips. Transfer the pepper to a saucepan.

After the pepper, add grated carrots with medium flakes. Stir the vegetables and fry for a couple of minutes.
Wash and dry green tomatoes. Cut each tomato into 4-6 pieces. Place the tomatoes in a saucepan.
Add salt, sugar and black pepper. Pour in water.
Stir and boil the salad of tomatoes, peppers, carrots and onions for 7-10 minutes, covered. Add vinegar at the end.
Arrange the salad of green tomatoes for the winter in sterile dry jars.
Immediately close the vegetable salad in jars (or roll up) the lids. Turn the cans over, check the tightness of the closure. Cool the salad under the covers. Store green tomato, bell peppers, carrots and onions salad in a cool place.
Bon Appetit!
Also Like
Comments for "Autumn Colors Salad with Green Tomatoes (for Winter)"