Baked Pork with Mustard-Nut Crust
by Editorial Staff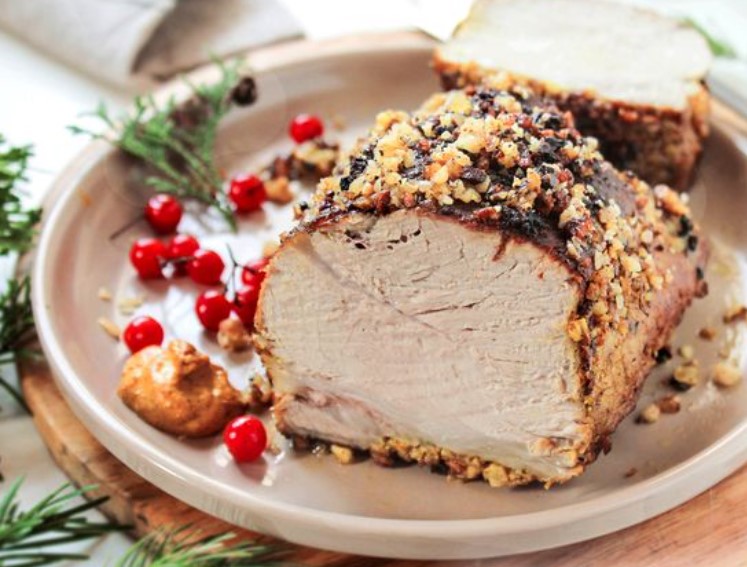 If you want tasty and presentable meat for a celebration, you can bake a massive piece of pork with mustard, breaded with nut crumbs. A versatile dish! Delicious both hot and cold! Such a natural product of home cooking will displace cold cuts from the festive table.
Cook: 1 hour 30 mins
Servings: 10
Ingredients
Pork (pulp, whole piece) – 800 g
Walnuts – 150 g
Mustard (ready-made seasoning) – 20 g
Vegetable oil – 30 ml
Dried garlic – to taste
Ground black pepper – to taste
Salt to taste
Directions
Take the food listed in the recipe. Pork is best used fresh, not frozen – it will be juicier when cooked. Choose mustard spicy or delicate, sweet – whatever you like. The mustard aroma is important in the dish. We get the pungency from ground pepper in full During the cooking process, you will need foil or baking paper.

Wash the meat, pat dry with paper towels.
Rub the meat generously with salt, dried garlic and ground pepper on all sides. Turn on the oven, set the temperature to 180 degrees. Heat a frying pan with vegetable oil on the stove over high heat. Place the pork in hot oil.
Brown the meat well until golden brown, 3-4 minutes on each side. The fire is strong or medium, depending on your stove
Be sure to flip the meat on all sides and edges to seal all juices inside.

Grind the walnut kernels at the same time.
The crumb is needed not very large. It is easier for such a crumb to stick to the meat and not burn.
Rub the fried meat preparation thickly with mustard.
Sprinkle a piece of pork in mustard with nut crumbs on all sides so that there are no gaps. Cover the meat dish with a lid / foil / baking paper and bake in an oven heated to 180 degrees for 40-60 minutes. For the last 5-10 minutes, bake the meat without the lid / foil / paper so that it browns a little. Check the readiness by piercing the pork through and through – the meat juice that stands out should be transparent. Remove the cooked meat from the oven and leave it alone under a lid / foil / paper for another five minutes.

Serve mustard-nut-crust baked pork as a hot meat dish with a side dish such as mashed potatoes. Or chill, cut into neat chunks, add to the meat platter and serve with pickles, to spirits. And sandwiches with such meat will be very appetizing and desirable as a breakfast or snack.
Bon Appetit!
Also Like
Comments for "Baked Pork with Mustard-Nut Crust"