Beetroot Smoothie with Raspberries, Orange and Apples
by Editorial Staff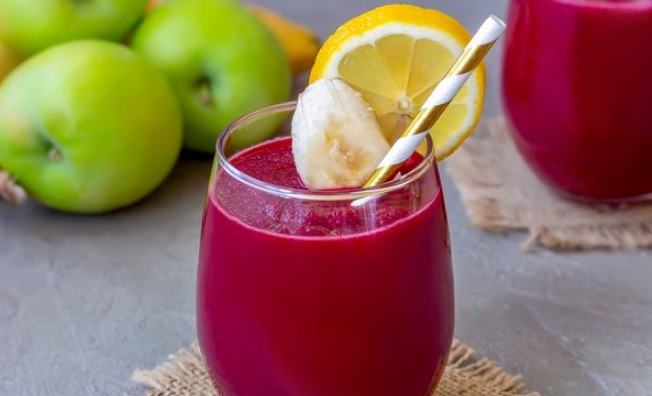 A thick fruit and a vegetable smoothie made from fresh beets, carrots, bananas, and apples can replace a hearty breakfast. Vegetables, fruits, and berries add nutritiousness, rich color, and natural sweetness to the drink. The addition of orange, raspberry, and lemon juice successfully "masks" the beet base of the drink, giving it fruity notes and a pleasant sweet and sour taste. Try it!
Cook: 10 min.
Ingredients
Beets – 600 g (3 pcs.)
Carrots – 365 g (4 pcs.)
Bananas – 380 g (2 pcs.)
Apples – 370 g (3 pcs.)
Orange – 460 g (1 pcs.)
Raspberries (fresh or frozen) – 180-200 g
Lemon (juice) – 1/2 pc. (60-90 g)
Chilled drinking water – 150-400 ml (to taste)
For the filling (optional):
Directions
Peel the beets, wash, cut into small cubes about 3×3 cm and transfer to a deep bowl. In a kettle or saucepan, bring about 1 liter of water to a boiling boil. Pour boiling water over the beetroot pieces and leave for about 2 minutes. Then drain the hot water, rinse the beets with cold water, and put them in a sieve or colander so that all the liquid is glass.
Peel the banana, orange, and carrot. Remove the seed pods from the apples and the seeds from the orange. Cut carrots and fruit into small pieces.
Place the chopped beets, carrots, orange, apples, and banana in the blender bowl. Add raspberries.
Whisk everything on high speed for about 2-3 minutes, until smooth. For convenience, you can separate the food and beat in portions, and add a little water (about 100 ml) to make the blender's work easier. Squeeze the juice out of the lemon. Add lemon juice to the smoothie to taste (I added about 2 tablespoons). Whisk still for about 20-30 seconds.
Adjust the thickness of the drink to your liking by adding chilled drinking water.
Bright beetroot smoothie with apples, raspberries, and orange is ready. Pour smoothies into glasses and serve, topping them with ice cubes, straws and garnish with fruit slices if desired. Bon Appetit!
Also Like
Comments for "Beetroot Smoothie with Raspberries, Orange and Apples"