Bread without Kneading
by Editorial Staff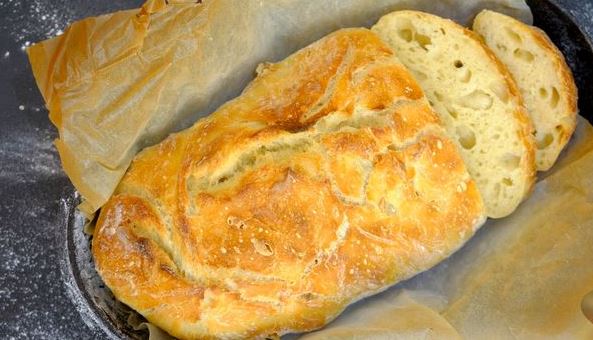 Bread without kneading in just 5 minutes of your time, yeast and fermentation will do the rest. Everyone, even a beginner, can handle such a bread recipe. The result is homemade bread with a crispy crust and porous crumb.
Ingredients
Wheat flour of the highest grade (sifted) – 400 g
Water – 300 ml
Dry yeast – 1/3 teaspoon
Sugar – 1 teaspoon
Salt – 1 teaspoon (no slide)
Directions
Add yeast, sugar, salt to water at room temperature.
Add flour. Knead the dough with your hands or with a spoon. It turns out to be liquid and sticky.

Cover the bowl with cling film and leave the dough at room temperature for 10-12 hours. Many bubbles will appear on the surface and throughout the volume, the volume will increase. Such an unpretentious dough can be left for both 14 and 18 hours. The main thing is to pay attention to the fermentation process and the formation of bubbles. My dough was good for 12 hours.
This is how the dough comes up. Sprinkle the parchment with flour. The dough will stick, so you can dust your hands with flour or grease with vegetable oil.

Layout the dough carefully. Form a loaf of bread according to the shape by folding the dough slightly. I have an oval shape.
To bake bread, you need a thick-walled ceramic or cast iron pan with a lid without any parts that melt from the heat. In my case, this is a cast-iron duck. It must be warmed up together with the oven to a temperature of 220-230 degrees. The original recipe recommends 250 degrees and higher, but from personal experience, I saw that at this temperature in my oven the bread burns from below, so I bake at 220 degrees.
Put the parchment with bread in a preheated dish, cover, and send to the preheated oven for 25-30 minutes.
After 25-30 minutes, remove the lid and bake the bread for another 10 minutes until golden crisp.
Wait for the bread to cool slightly, and you can cut it.
Also Like
Comments for "Bread without Kneading"