Rye Bread without Kneading
by Editorial Staff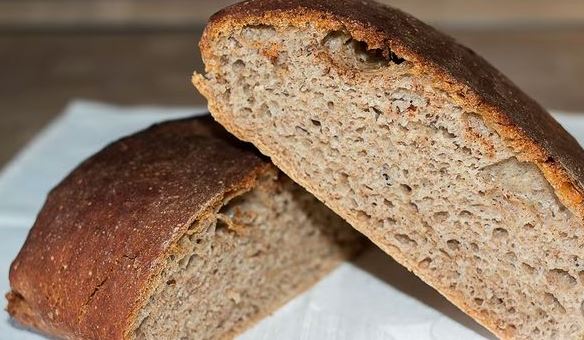 This rye bread recipe is very similar to the wheat bread recipe without kneading dough and using a mold, differing only in some subtleties. It is quite difficult to make pure rye bread. For the most part, such bread contains wheat and rye flour in different proportions. Such bread is less "heavy" and is liked by almost everyone.
Ingredients
Rye flour – 120 g
Wheat flour – 180 g + for working with dough
Water – 250 ml
Dry instant yeast – 2 g (or fresh yeast – 6 g)
Salt – 5 g
Honey (optional) – 1 teaspoon or vegetable oil (optional) – 1 tbsp
Directions
Mix wheat flour with dry yeast. Add salt, rye flour, and wheat flour with yeast to the water.
Mix everything well. (You can add honey or vegetable oil to this dough if desired.)
Smooth the surface of the dough, cover with foil, make a hole in it and leave the dough at room temperature for 14-16 hours. When the dough has fermented, scrape it from the edges to the center with a scraper and place it on parchment, abundantly dusted with flour.

Pull the edges of the dough to the middle. Transfer the dough and parchment paper to a shallow semicircular bowl. Sprinkle a little flour on the dough, cover with a napkin and leave for about 1.5 hours.
For half an hour, turn on the oven to the maximum, but for the dishes with water in it, leave the baking sheet inside. Sweep any excess flour off the parchment to keep it from burning. Lightly grease the surface of the dough with water.
Drag the parchment onto a hot baking sheet and place in the oven. Bake rye bread for 10 minutes. Then remove the water and reduce the temperature to 230 ° C. After another 10 minutes, lower the temperature to 210-220 ° C and bake for another 30 minutes. When the surface of the bread is brown enough, cover it with parchment. The total baking time is approximately 50 minutes.

Homemade rye bread without kneading is ready.
Bon Appetit!
Also Like
Comments for "Rye Bread without Kneading"