Homemade Bread without Kneading
by Editorial Staff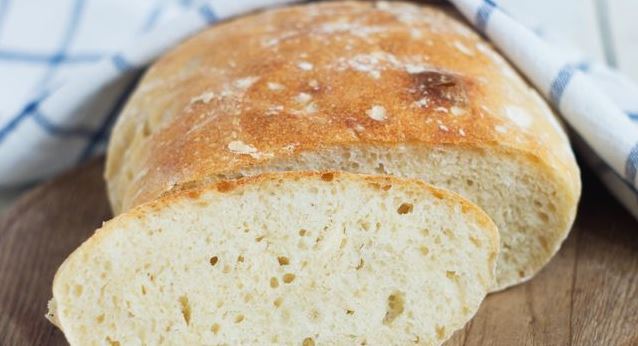 Gorgeous homemade bread without a long and tedious kneading! To taste, such bread without kneading most of all resembles an ordinary white brick, but only homemade bread has a more appetizing crisp crust and it is much more aromatic.
Cook: 50 minutes
Ingredients
Water – 300-350 ml
Flour – 500-600 g
Salt – 1 teaspoon
Dry yeast – 0.25 teaspoon
Directions
Sift 400 g flour into a bowl (about 3 cups with a capacity of 200 ml), add salt and dry yeast. Stir.
While stirring, gradually add water until a homogeneous, sufficient batter is obtained.
I added 300 ml of water and the dough, in my opinion, remained too thick – perhaps this is due to my flour. I added another 50 ml of water.
Cover the resulting dough, which looks more like a dough, with cling film and leave at room temperature for 12-18 hours. I left the dough for 18 hours.
The dough should be filled with plenty of bubbles.
Sprinkle the table generously with the remaining flour and pour the dough from the bowl into the flour. Since the dough is very sticky and naughty, it must be literally kept on flour.
Using your fingertips, carefully begin to pick up the dough from the bottom of the flour layer and fold it in the center. Reception must be repeated 2-3 times, picking up the dough from opposite edges. The dough will remain soft and flowing, but it will now be easier to transfer to the mold.

Cover the colander with a natural cloth towel and criss-cross two sheets of parchment paper. Place the dough on the paper, cover with cling film, and leave to proof for another 2 hours.
When the proofing is almost complete, place a heat-resistant dish in the oven (this can be gospel or a cauldron) and heat to 230 degrees. Transfer the dough with the sheets of parchment into a heated mold.
Cover the mold with a lid or a sheet of foil. Bake the bread in an oven preheated to 230 degrees for about 30 minutes.
Then remove the lid or foil and bake the bread for another 15 minutes – until a delicious blush appears.
Remove the finished bread from the oven and from the mold, so as not to dry it out. Wrap the bread in a linen towel and keep until it cools completely, so the bread will be softer.
Homemade bread without kneading can be served directly from the oven, hot.
The bread has a pleasant springy crumb and an appetizing golden-brown crust.
Bon Appetit!
Also Like
Comments for "Homemade Bread without Kneading"