Cabbage with Chinese Cabbage
by Editorial Staff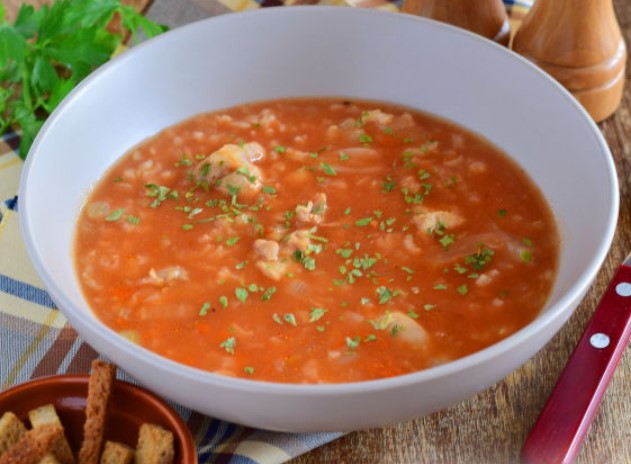 Try this recipe for cabbage with Chinese cabbage and chicken. I'm sure you will love this dish!
Cook: 1 hour 15 mins
Servings: 4
Ingredients
Chicken legs or legs – 300 g
Potatoes – 200 g
Water – 1.5 l
Rice – 50 g
Peking cabbage – 200 g
Onions – 40 g
Sunflower oil – 1 tbsp
Flour – 1 tbsp
Tomato paste – 1 tbsp
Bay leaf – 1 pc.
Peppercorns – 2 pcs.
Salt to taste
Directions
We prepare all products for cabbage.

Carefully cut the meat off the legs.
Put the chicken fillet in a saucepan, fill the meat with water.
Peel the potatoes and cut into large cubes.
Add the potatoes to the pot, salt the broth. We put the pan on the fire and cook for 20 minutes, until the potatoes and meat are fully cooked.
Cut the onion into small cubes.
Heat vegetable oil in a frying pan and fry the onion until golden.
Add flour to the frying pan to the fried onions and mix the onions with flour well. Remove the pan from the heat.
We take out the potatoes from the pan and put them in a bowl, set aside for now. Put rice in broth with meat. Cooking rice in broth for 10 minutes.
Chop the Beijing cabbage finely.
Add Chinese cabbage to the cabbage.
Grind potatoes with a potato grinder.
Put the crushed potatoes in a saucepan.
Add fried onions with flour to the cabbage.
Add tomato paste.

Add bay leaves and peppercorns. Cooking cabbage for another 5-7 minutes after boiling and remove the pan from heat.
Pour cabbage with Peking cabbage into portioned plates and serve with fresh bread or crackers.

Enjoy your meal!
Also Like
Comments for "Cabbage with Chinese Cabbage"