Cake "Bounty"
by Editorial Staff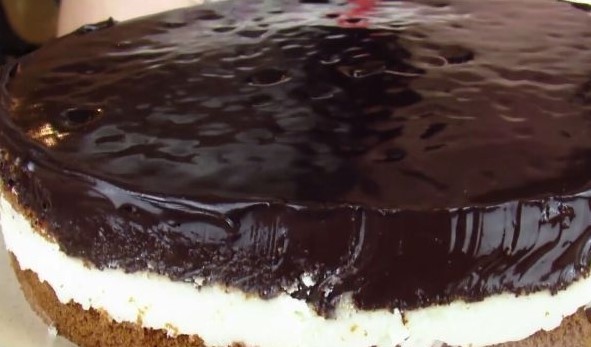 Delicious and easy to prepare Bounty cake. For lovers of desserts with coconut! Bon Appetit!
Ingredients
For the biscuit:
Eggs – 4 pcs.
Flour – 100 g
Sugar – 100 g
Cocoa powder – 2 tablespoon.
Baking powder – 0.5 teaspoon.
For the cream:
Coconut flakes – 160 g
Milk – 200 ml
Sugar – 100 g
Butter – 100 g
For glaze:
Milk – 100 ml
Butter – 50 g
Sugar – 4 tablespoon.
Cocoa powder – 4 tablespoon.
For soaking the cake layers:
Directions
Combine eggs with sugar, beat until fluffy.
Combine flour, cocoa, and baking powder.
Add dry ingredients to egg mass by sifting everything together through a sieve.
Knead the dough with a spatula.

Pour the dough into a split mold (diameter 22 cm), lined with parchment and oiled.
Bake the biscuit at 160 degrees for 30 minutes.
Let's make some coconut cream. Melt butter, sugar, and milk in a saucepan.
Add coconut flakes and boil until thick.
Let's prepare the icing. Melt butter, sugar, milk, and cocoa in a saucepan.
Cook, stirring with a whisk, until thick.
Cut the cooled biscuit into two parts.

The cake can be collected in the form in which the biscuit was baked. Set a dish without a bottom on the dish, lay out the bottom cake with a cut-up. Saturate both cakes with cream on the inside.
Then spread the coconut filling.
Cover with the second cake layer.

Pour lukewarm icing over the Bounty cake. Send to the refrigerator for 2-3 hours.
Bon Appetit!
Also Like
Comments for "Cake "Bounty""