Bounty Pastry
by Editorial Staff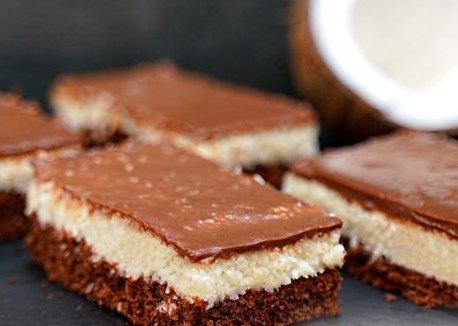 We are in love with this Bounty cake! This recipe makes a tender, soft, and aromatic coconut treat. The coconut filling keeps its shape well, moderately sweet. If you love Bounty sweets, we highly recommend making this delicious treat. Can be made in the form of a round cake.
Ingredients
For the basics:
Butter (or margarine) – 80 g
Eggs – 2 pcs.
Wheat flour – 80 g
Sugar – 80 g
Cocoa powder – 2 teaspoons with a large slide
Baking powder – 1 teaspoon
Salt – a pinch
For filling:
Milk – 400 ml
Semolina – 2 tbsp (no slide)
Coconut flakes – 200 g
Butter 82% – 100 g
Sugar – 80 g
Vanilla sugar – 10 g
For glaze:
Milk chocolate – 150 g
Milk – 40-80 ml
Instructions
All ingredients for the chocolate base are at room temperature. Turn on the oven to heat up to 180 degrees. Beat butter, sugar, and salt with a mixer add eggs, beat for 3-4 minutes. Mix the sifted flour with cocoa and baking powder and sift into the dough, stir with a spatula until smooth. Put the dough into a parchment-lined mold, flatten. You need a rectangular shape 22 cm by 25 cm or a round shape with a diameter of 24 cm. Bake in the oven for 12-15 minutes, until tender.
For the coconut filling, heat the milk, add semolina in a thin stream, cook until the first boiling bubbles. You get a fairly liquid semolina porridge. Don't worry, it will thicken later. We must say right away that semolina is not felt at all in the finished cream. If you want, you can replace it with starch (1 tablespoon).
Add sugar, vanilla sugar, butter, and coconut. Stir and place on the chocolate base.

The icing can be made from milk chocolate, it tastes very much like the Bounty candies, as there is also a coconut filling in milk chocolate. And you can make a more budget-friendly icing from sour cream, cocoa, and sugar. To do this, you need to warm up the milk and pour chocolate over it. The more milk you have, the softer the glaze will be.
Cover the cake with icing. Let it cool completely at room temperature, and then put it in the refrigerator for an hour and a half so that it is completely stabilized.
Also Like
Comments for "Bounty Pastry"