Cake "Pancho" with Pineapples
by Editorial Staff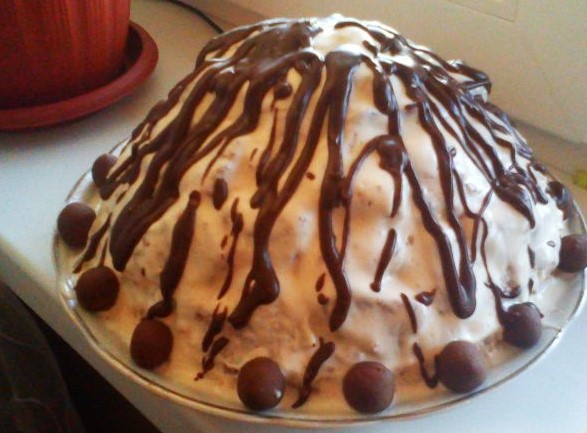 Very tasty and easy to prepare a sour cream cake with pineapple.
Cook: 50 minutes
Servings: 12
Ingredients
For the dough:
Sour cream – 400 g
Sugar – 2 glass
Flour – 2 cups
Eggs – 2 pcs.
Cocoa – 2 tablespoons
Soda – 1 teaspoon
For the cream:
Sour cream – 600 g
Sugar – 1 glass
For glaze:
Butter – 50 g
Cocoa – 2 tablespoons
Powdered sugar – 1 tablespoon
Milk – 4 tablespoons
For the layer:
Canned pineapples – 1 pot
Directions
First, make the dough. To do this, beat the sour cream, sugar, and eggs. Gradually introduce flour and soda, you get a batter. Divide the dough into two parts. Add cocoa to one part, leave the other white.
We bake two cakes in the oven at a temperature of 200 degrees – white and dark (we bake in a round shape).
When the cakes are cool, divide the white cake horizontally in half. We leave the lower part for the base. Cut the remaining white cake and black cake into small pieces.
We make a cream: combine sour cream with sugar and beat with a mixer for 7-10 minutes.
Grease the base with cream, put pieces of chopped dough, generously grease with cream, sprinkle with pineapples. And again we put pieces of dough, grease with cream, sprinkle with pineapples, etc. We put it in the form of a slide, cover the top with cream.
For the glaze, add cocoa and powdered sugar to warm milk (sift cocoa and powder) and mix well. Then add butter at room temperature and stir well again. Pour this mixture over the cake.
Put Pancho cake with pineapples in the refrigerator for 5-6 hours to soak well. I also decorated the cake with chocolate balls.
Also Like
Comments for "Cake "Pancho" with Pineapples"