Cheese soup with chicken and zucchini has a velvety texture, delicate aroma, and pleasant taste.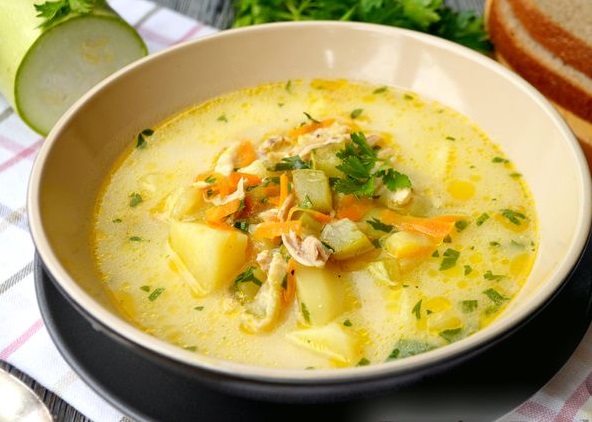 Ingredients
Chicken (any part) – 300 g
Zucchini – 0.5 pcs. (250 g)
Processed cheese – 100 g
Potatoes – 4-5 pcs. (350 g)
Bulb onions – 0.5 pcs. (80 g)
Carrots – 1 pc. (100 g)
Vegetable oil – 3 tbsp
Salt – 1 teaspoon
Ground pepper (a mixture of peppers) – pinch
Fresh parsley – 3-4 sprigs
Water – 2 l
Directions
Prepare all ingredients. This soup can be prepared in any meat broth or simply in water.
To prepare the broth, pour the chicken pieces into a saucepan with 2 liters of water and put it on fire. Bring to a boil, remove the foam and cook the broth over low heat for 30-40 minutes, until the chicken meat is tender.
Peel and dice the potatoes.
Remove the chicken from the finished broth and cool.
Put the chopped potatoes in the broth, bring to a boil and cook for 10 minutes over medium heat.
Peel vegetables such as carrots, onions, and squash. If the zucchini is young, you don't need to peel it. Cut the courgettes and onions into cubes, grate the carrots on a coarse grater.
Heat vegetable oil in a skillet and fry the onions until transparent, about 3-4 minutes, stirring occasionally.
Add the grated carrots and sauté for another 5 minutes, until tender.
Then add the sliced ​​zucchini to the skillet.
Sauté vegetables for another 5 minutes.
Place the contents of the skillet in a saucepan of boiling broth.
Remove the cooled chicken from the bone and chop finely.
Add the chicken pieces to the soup.
Grate the processed cheese on a fine grater, so it dissolves faster in the soup.
Transfer the processed cheese to the soup pot. Bring the soup to a boil. Cook for another 2-3 minutes, stirring occasionally, to dissolve the cheese completely.
Chop the parsley and send it to the soup. Add salt, pepper mixture, bring to a boil again, and turn off the heat.
Chicken soup with zucchini and melted cheese is ready.
Pour the prepared soup into bowls and serve.
Bon Appetit!