Cheesecake "New York"
by Editorial Staff
If you're looking for a good cheesecake recipe, then you've found it. Cheesecake "New York" with a delicate silky texture and light hints of lemon. Cheesecake is very easy to prepare and the process itself takes a lot of time, but believe me, the result is worth it!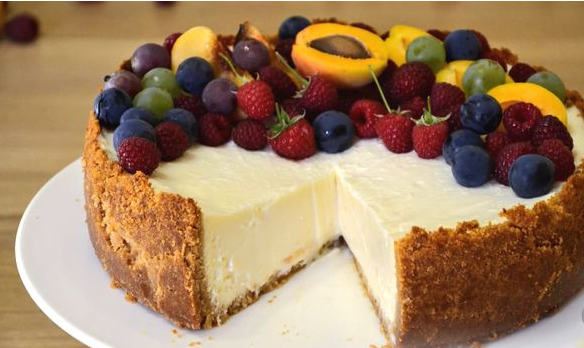 Ingredients
For the basics:
Shortbread or unsalted crackers – 350 g
Butter – 200 g + for greasing the mold
Sugar – 2 tbsp
For filling:
Cream cheese (Philadelphia) – 1 kg
Sugar – 250 g
Corn starch – 3 tbsp
Lemon juice – 2 tbsp
Lemon zest – 2 teaspoon
Eggs – 5 pcs.
Vanilla extract – 2 teaspoon
Sour cream 20% – 100 g
To cover:
Sour cream 20% – 150 g
Powdered sugar – 2 tbsp
Lemon juice – 2 teaspoon.
For decoration:
Directions
In almost all cheesecake recipes, it is strongly recommended to use a water bath to achieve a creamy and velvety texture and to prevent cracking when baked. I propose a recipe for this delicious dessert without a water bath. To bake the cheesecake evenly and without cracks, first bake at a high temperature for 10 minutes, then gradually lower the temperature and bake until tender. The result is a perfect-shaped, crack-free cheesecake that just melts in your mouth.
Preparing the base for the cheesecake. Grind the cookies into small crumbs in a blender.
Pour melted butter into the cookie crumbs, add sugar and mix well.
Cover the bottom of a mold with a diameter of 22 cm with baking paper, grease the edges with butter. We spread the crumb in a mold, tamp the bottom, form the walls if desired.
Bake the cheesecake base at 175 ° C for 10 minutes, then cool completely.

All ingredients for the filling should be at room temperature!
Stir the cream cheese until it becomes soft and smooth (if using a mixer, try to beat at very low mixer speeds).
Add sugar in small portions and continue to mix with a mixer. Try not to beat too much. If the mixture is oversaturated with air bubbles, the cheesecake may swell and crack when baking. Therefore, we mix very carefully, you can use a whisk instead of a mixer.
Add cornstarch, lemon juice, lemon zest, vanilla essence and whisk for literally 15-20 seconds.
Then add sour cream and beat again at low mixer speed for 15-20 seconds.
Add one egg at a time, mix well each time, after each addition.
IMPORTANT! Bake the cheesecake clearly according to the instructions, then it will not crack or dry out. Bake the cheesecake for the first 10 minutes at a temperature of 200 ° C, then reduce the temperature to 120 ° C and bake for another 60-90 minutes. After baking, turn off the oven and leave the cheesecake with the door closed for 30 minutes. Then open the oven door and leave for another 30 minutes. Baking times may vary depending on your oven, so the edges of the cheesecake should grip, only the center will be a little thin and wobbly.
While the cheesecake is baking, prepare the sour cream layer. Mix sour cream with powdered sugar and lemon juice.
We take out the cheesecake from the oven and grease it with sour cream on the entire surface while still hot. Then leave the cheesecake to cool at room temperature.

After cooling completely, send the cheesecake to the refrigerator for at least 6-8 hours before slicing and serving.
We draw with a sharp knife along the edges of the form (if necessary).
Gently remove from the mold in which the cheesecake was baked. We transfer it to the cake platter and, if desired, decorate the cheesecake with fresh fruits and berries.
Cheesecake "New York" is ready.
Bon appetit and good baking!
Also Like
Comments for "Cheesecake "New York""