Cheesecake "New York" with Cherries
by Editorial Staff
The recipe for the world famous cheesecake with butter cream and cherries.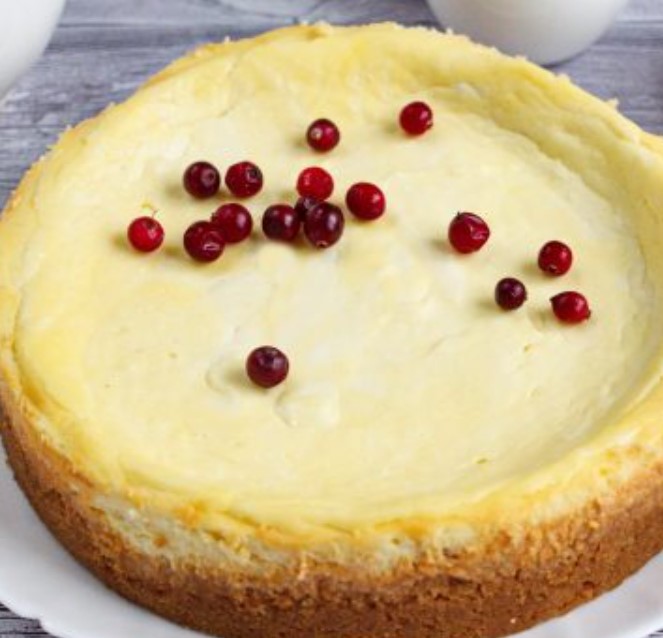 Cook: 1 hour 40 mins
Servings: 8-10
Ingredients
Chocolate or vanilla crackers – 240 Grams (dough)
Ghee butter – 8 Art. spoons (dough)
Salt – 1/4 Teaspoon (dough)
Philadelphia Cream Cheese – 240 Grams (cream)
Flour – 3 Art. spoons (cream)
Finely grated lemon zest – 1 Teaspoon (cream)
Finely grated orange zest – 1 Teaspoon (cream)
Large eggs – 5 Pieces (cream)
Large egg yolks – 2 Pieces (cream)
Vanilla – 1/2 Teaspoon (cream)
Pitted sweet or sour cherries – 300 Grams (filling)
Lemon juice – 2 Tbsp. spoons (filling)
Sugar – 300 grams (100 grams – in the dough, 150 grams – in the cream, 50 grams – in the cherry layer)
Starch – 1 Art. spoon (filling)
Directions
Prepare the dough. Grind the crackers in a food processor to a crumb-like consistency.
Stir in butter, sugar and salt. Put the mass in a greased mold, pressing it to the surface. Place the pan in the freezer while you prepare the cream and filling.
Preheat the oven to 290 degrees. Beat together, cream cheese, sugar, flour and zest with a mixer until smooth. Add vanilla, then eggs and yolks, one at a time, beat on low speed.
Place the dish on a small baking sheet, pour the creamy mixture over the dough and bake in the middle of the oven for 12 minutes. Reduce temperature to 95 degrees and bake for 1 hour.

Cool pie completely on a counter, then chill in refrigerator for at least 6 hours.
Make the cherry filling. Place all ingredients together in a medium saucepan. Boil. Cook for 1-2 minutes, then remove from heat and allow to cool. Place cheesecake on a large platter. Place the filling on top of the chilled cheesecake. Bring this to room temperature before serving. The cheesecake can be prepared in advance and kept covered in the refrigerator for 2 weeks.
Bon appetit!
Also Like
Comments for "Cheesecake "New York" with Cherries"