Cheesecake "New York"
by Editorial Staff
The recipe for a delicate New York cheesecake is available to everyone because the expensive Philadelphia cream cheese can be replaced with cottage cheese. Despite the fact that we have slightly deviated from the classic recipe for this dessert, the result exceeded expectations.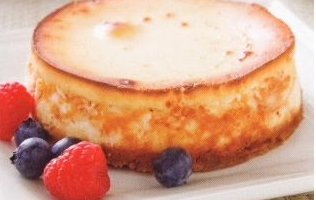 Ingredients
For cakes:
Whole grain crumbly cookies – 60-70 g
Butter – 65-75 g
Sugar – 1 tbsp
For filling:
Curd cheese – 280 g
Sugar – 1/3 cup
Eggs – 1 pcs.
Yolks – 1 pc.
Salt – 1 pinch
Sour cream – 4 teaspoon
Lemon juice – 0.5 teaspoon
Vanilla essence – 2-3 drops
Directions
Break the cookies and grind them into crumbs with a blender. Melt the butter and cool. Add 2 tablespoon. tablespoons of butter and sugar into crumbs. Mix. Gradually add the remaining oil until the mixture becomes sticky.
Put the mixture in two molds with a diameter of 12 cm, tamp the crumbs with a spoon.
Preheat the oven to 160 degrees. Bake the cakes for about 10 minutes, until golden brown. Refrigerate.
Beat cheese for 1-2 minutes with a hand mixer at medium speed.
Add salt and 0.25 cups of sugar, beat for another 1 minute. Add the remaining sugar, sour cream, lemon juice, vanilla. Beat for another 1 minute.
Add egg and yolk and beat for 1 minute.
Gently grease the inside of the molds with the remaining melted butter. Put the cream on the cakes, smooth the surface.
Preheat the oven to a temperature of 200-210 degrees. Bake for 5 minutes at a high temperature. Then, without opening the door, lower the temperature to 100 degrees, bake the New York cheesecakes for another 10-15 minutes.
Chill for 5 minutes, then gently separate the cheesecakes from the baking dish. Chill for another 1 hour, then gently remove the New York cheesecakes from the molds.
Bon Appetit!
Also Like
Comments for "Cheesecake "New York""