Chicken Drumstick in a Pan
by Editorial Staff
A very convenient dish that can always be prepared quickly and easily, especially if there is not so much time. Chicken drumstick in a pan is a very simple and economical option for all occasions.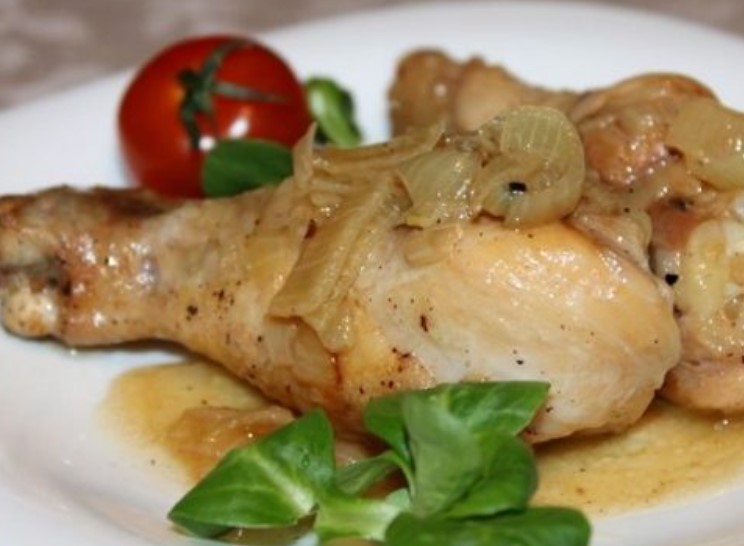 Cook: 1 hour
Servings: 5-6
Ingredients
Chicken drumstick – 5-6 pieces
Onions – 1-2 Pieces
Vegetable oil – 15 Milliliters
Ground black pepper – To taste
Salt – To taste
Directions
First of all, we rinse the legs under cold water and wipe them with a napkin.
Now we salt and pepper them, if possible, leave them to marinate for at least half an hour. If there is no time, then immediately pour vegetable oil into the pan and put it on fire. First fry the drumsticks over high heat until golden brown, then reduce it to medium and continue to fry.
While the chicken is cooking, peel the onions and cut them into quarters.
We make the minimum heat on the stove and put the chopped onions in the pan to the chicken, fry everything together, stirring occasionally, until the onions turn golden. Then we transfer all the contents of the pan into the pan and fill the chicken with hot water, but so that the liquid does not completely cover the legs. Cover the saucepan with a lid and simmer the chicken over low heat for about 7-10 minutes.

Now our chicken is ready, it remains only to choose a side dish,
Bon appetit.
Also Like
Comments for "Chicken Drumstick in a Pan"