Chicken Legs Baked with Bulgur
by Editorial Staff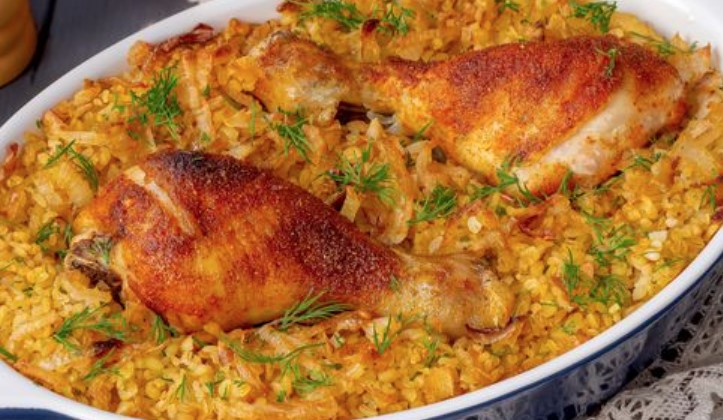 A simple and delicious idea for a hassle-free dinner – chicken, and bulgur garnish baked in one dish. Since the drumsticks and grits are cooked at the same time, the bulgur is soaked in meat juice and becomes more crumbly and flavorful than boiled separately. Moreover, the entire active cooking process takes no more than 15 minutes.
Cook: 1 hour 15 minutes
Servings: 2
Ingredients
Chicken drumsticks – 350 g (2 pcs.)
Bulgur – 225 g
Bulb onion (large) – 150 g (1 pc.)
Salt to taste
Ground black pepper – to taste
Seasoning for chicken – 1 tbsp
Water (warm) – 600 ml
Vegetable oil – 2 tbsp + for greasing the mold
Fresh dill (for serving) – 1-2 branches
Directions
Prepare foods on the list. The volume of my baking dish is 1.25 liters. Turn on the oven to heat up to 180 degrees.
Peel the onions, rinse and cut into thin quarters. Rub the chicken drumsticks on all sides with the chicken seasoning. If the drumsticks are large, it is better to pre-fry them for 2-3 minutes on each side until half cooked, and then sprinkle with seasoning. This will cook the chicken faster.
Lightly coat a baking dish with vegetable oil. Send in bulgur form, add salt and pepper to taste, stir.
In a skillet over medium heat, heat 2 tablespoon. tablespoons of vegetable oil. Add the onion and, stirring occasionally, fry for 7-8 minutes, until soft and golden brown.
Place the onion in a mold, spreading evenly over the cereal.

Top with chicken drumsticks.
Pour in warm water.

Cover the tin with foil and place in a preheated oven for 40-45 minutes. And if you have previously slightly fried the chicken, then for 25-30 minutes.
After the specified time has elapsed, check the chicken's readiness by piercing the thickest part with a fork. If clear juice flows out, then you're done. If the shins are not ready yet, and all the water has already been absorbed into the bulgur, then add another 50 ml of hot water and return the mold in foil to the oven for another 10-12 minutes.
When the chicken is done, remove the foil and place the dish in the oven for about 10 more minutes to brown the chicken.

Chicken legs baked with bulgur are ready. Serve hot, garnish with chopped herbs if desired.
Enjoy your meal!
Also Like
Comments for "Chicken Legs Baked with Bulgur"