Chicken Meatballs Stewed With Eggplant, Bell Pepper and Olives
by Editorial Staff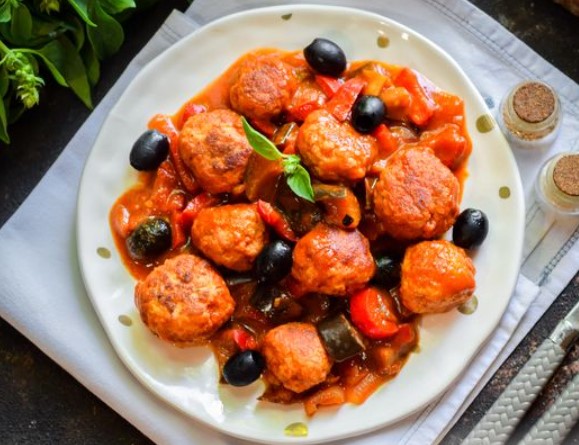 Combine minced chicken meatballs, eggplant, bell peppers, tomato paste in one frying pan – and you get a bright, satisfying and appetizing dish. For zest, add some olives – they will give the dish an original taste, exquisite aroma and subtle Mediterranean flavor.
Cook: 1 hour
Serving: 4
Ingredients
Minced chicken – 350-400 g
Eggplant – 250 g (1 pc.)
Bulgarian red pepper – 250 g (1 pc.)
Pitted olives – 120 g
Bulb onions – 1 pc.
Garlic – 3 cloves
Bread crumbs – 3 tbsp
Tomato paste – 3 tbsp
Ground paprika – 1 teaspoon
Salt to taste
Ground black pepper – to taste
Vegetable oil – 3 tbsp
Directions
Prepare all ingredients according to the list.
You will also need 500 ml of water.
Wash and dry the eggplants, trim off the ends on both sides. Cut the eggplants into medium pieces, sprinkle generously with salt, stir and leave for 20 minutes.
After a while, rinse the eggplants under running water, squeeze and dry.
Put the minced chicken in a bowl, add salt and pepper to taste, add a little paprika if desired.
Add bread crumbs to the minced chicken.
Mix everything thoroughly.

Form small balls from minced meat.
Peel the onion. Peel the bell pepper from seeds and stalks. Wash the vegetables and cut into medium slices.
Peel and chop the garlic.
Heat 1.5 tablespoon in a skillet. tablespoons of vegetable oil, put chicken balls and fry on all sides for 4-5 minutes, until golden brown. Then transfer the meatballs to a plate and set aside for a while.
Heat the remaining oil in the same frying pan, put onions, peppers and eggplants.
Fry vegetables for 4-5 minutes, stirring constantly so that they do not burn.

Combine water with tomato paste, add paprika, salt and pepper to taste.
Pour the prepared tomato mixture into the pan, put the meatballs and add chopped garlic.
Add olives to the pan. Cover the pan with a lid.
Simmer the meatballs over low heat for 25 minutes.
Chicken meatballs stewed with eggplant, bell pepper and olives are ready. You can serve such meatballs to the table as an independent dish with fresh vegetables or with a side dish of your choice, for example, with rice or potatoes.
Good appetite!
Also Like
Comments for "Chicken Meatballs Stewed With Eggplant, Bell Pepper and Olives"