Quiche with Bell Peppers and Olives
by Editorial Staff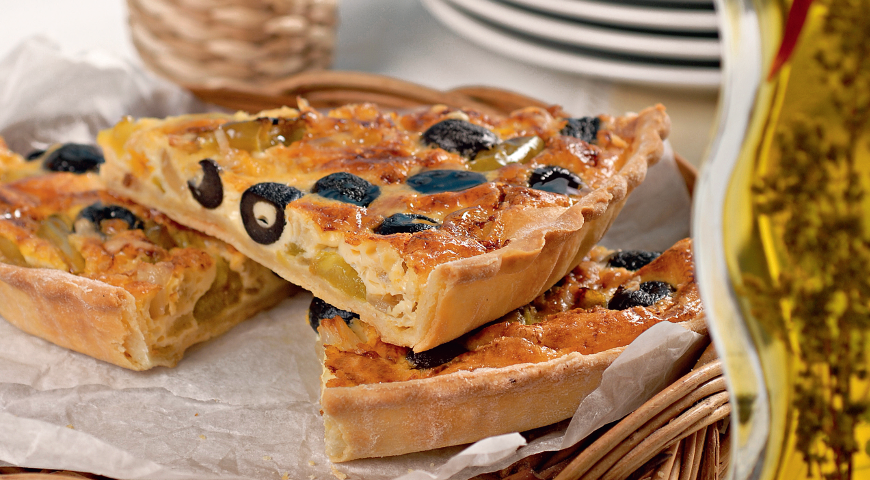 To make the shortbread dough crispy, it should be kept in the refrigerator for several hours, and only then rolled out.
Cook: 1 hour
Servings: 6
Ingredients
flour – 200 g
butter – 90 g
For the filling:
pitted olives – 140 g
sweet red pepper – 1 pc.
cream with a fat content of 10% – 140 ml
egg – 2 pcs.
vegetable oil – 2 tbsp
onion – 1 pc.
yellow bell pepper – 1 pc.
grated parmesan – 25 g
grated gruyere cheese – 85 g
Directions
Prepare the dough. Cut the chilled butter into small pieces, add to the sifted flour and rub with your hands until bread crumbs. Add 2-3 tbsp cold water and knead to a homogeneous dough.
Roll out the dough on a lightly floured surface, place it in a 20 cm diameter quiche mold. Roll the sides of the mold with a rolling pin to remove excess dough. Make frequent punctures on the dough with a fork, cover the bottom with parchment, add dry beans, and place in an oven preheated to 200 ° C for 15 minutes. Remove beans and paper and return to oven for another 5 minutes. Do not turn off the oven by reducing the temperature to 180 ° C.
Peel and chop the onion. Wash the peppers and cut them into small pieces, removing the core.
Heat the oil in a saucepan and fry the onion, 2 minutes. Add peppers and cook for another 5 minutes. Remove from heat and allow to cool.
Beat eggs with cream. While whisking, add the gruyere and parmesan.
Put the peppers fried with onions on the dough, add olives. Pour in the cheese and egg mixture and place in the oven for 30 minutes. Allow to cool slightly, then remove the quiche from the mold. Serve warm.
Also Like
Comments for "Quiche with Bell Peppers and Olives"