Chili with Black Beans and Eggplant
by Editorial Staff
Chile is not only a country and a kind of pepper, but also a delicious Mexican dish. I am telling you how to cook delicious chili from black beans and eggplant.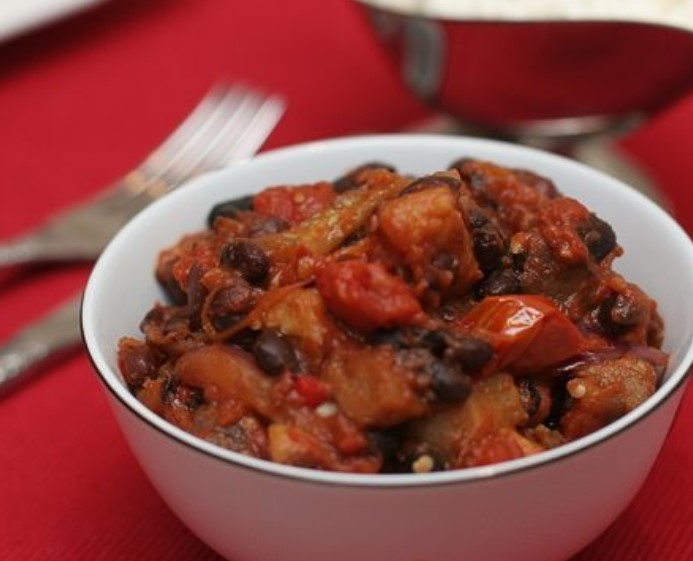 Cook: 2 hour
Servings: 4
Ingredients
Dry black beans – 100 grams
Eggplant – 400 Grams
Red onion – 2 Pieces
Chili Pepper – 2 Pieces
Zira (cumin) – 1/2 Teaspoon
Cinnamon sticks – 1/2 Teaspoon
Sour cream – 200 Grams
Olive Oil – 60 Milliliters
Sea salt – 1 teaspoon
Garlic – 5 Pieces
Tomatoes in their own juice – 600 grams
Dried coriander (cilantro) – 1/2 Teaspoon
Dark chocolate 70-80% cocoa – 40 grams
Cheddar – 300 Grams
Directions
Black beans must first be soaked in cold water for 6-8 hours. Soaked beans must be boiled until tender – they cook for about an hour and a half.
We do the following with eggplants – cut into cubes, season with salt and leave for 20 minutes (this is done so that the eggplants lose their bitterness). Then we thoroughly rinse the eggplants from salt and fry in vegetable oil until golden brown. Fried eggplants should be lightly dried on a paper napkin so that excess fat comes out.

Cut the red onion into large feathers.
Finely chop the garlic.
Fry red onions in olive oil for 3 minutes, then add garlic and fry for another 1 minute.
Peel the chili pepper from seeds and cut into thin half rings. Add it to the pan with onions and garlic and fry for another 1-2 minutes.
Next, fill in all this stuff with tomato paste, and also season with cumin, coriander, salt and cinnamon, ground in a mortar.
Bring the chili to a boil, then add the boiled beans and eggplant to the pan. Stir and simmer for another 15-20 minutes. Immediately before serving, sprinkle the dish with finely grated chocolate.
Now (this is optional) we are preparing sour cream sauce, with which we will serve our spicy dish. Everything is simple here – finely rub the cheese, mix with sour cream.

Mix and place in a saucepan. Serve with a hot dish.
Bon Appetit!
Also Like
Comments for "Chili with Black Beans and Eggplant"