Chocolate cake "Double"
by Editorial Staff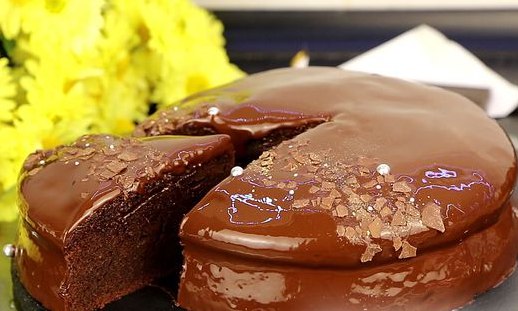 Chocolate lovers will definitely appreciate it. Intense chocolate flavor with a slight alcoholic note. The cake is moist, moderately sweet, and very, very chocolatey! Join us!
Cooking: 15 minutes
Servings: 8
Ingredients
For the dough:
Butter – 150 g + for greasing the mold
Dark chocolate – 150 g
Eggs – 225 g (4-5 pcs.)
Sugar – 70 g
Wheat flour (or almond) – 45 g
Rum or cognac (optional) – 10 g
Salt – 1 pinch
Cocoa powder – for sprinkling the mold
For glaze:
Dark chocolate – 150 g
Vegetable oil – 15 g
Instructions
Preparing food. Eggs – at room temperature. Alcohol (rum or cognac) – optional. Wheat flour can be substituted for almond flour. You can use coconut oil instead of butter. Adjust the sweetness yourself, perhaps you want more or less sugar.
First, prepare the dough. Melted chocolate (for dough) and butter in a steam bath or the microwave (in short pulses). Combine melted chocolate and butter, mix well. I add alcohol and mix well as well.
Here is such a glossy, homogeneous mass. Put it aside. Turn on the oven to preheat to 160 degrees. Combine eggs with sugar and salt, mix well with a whisk. No need to whip. Then I combine it with a chocolate-butter mixture. Mix well until smooth. Sift all the flour at once (in a bowl to the chocolate mixture). Mix well. Here is such a very fragrant and chocolate dough.

Grease the bottom and sides of the form in which you will bake with butter and sprinkle with cocoa powder. The bottom of the mold was also pre-covered with parchment. Pour the dough into a mold, level it. A couple of times you can "bang" 🙂 the form with the dough on the table so that all the voids are filled. And I send it to the oven for 40-45 minutes. You do not need to set too high a temperature.
Check the readiness of the cake with a toothpick. Immediately after baking, a small "cap" forms on the cake, but as it cools, it will settle. Let the cake cool completely and remove it from the mold.
Preparing the icing. Melt the chocolate in a steam bath or the microwave, add vegetable oil. Stir. Cover the cooled cake with icing on all sides. When the frosting has cooled, it will turn dull and adhere well to the cake.

Transfer the Double Chocolate Pie to the serving platter. And you can invite everyone to the table.
Well, the pie is very aromatic! We hope you enjoy the recipe! Great mood to everybody!
Also Like
Comments for "Chocolate cake "Double""