Chocolate Cake for Easter
by Editorial Staff
A very good, proven recipe for chocolate cake with raisins, oranges and almonds. We love to cook such a cake for Easter.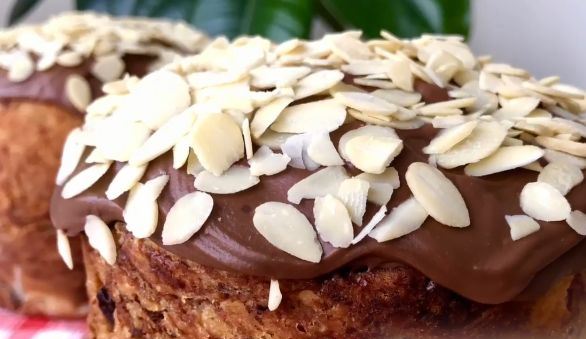 Ingredients
For dough:
Milk – 0.5 l
Flour – 2 cups
Fresh yeast – 50 g
or dry yeast – 2 tbsp
Sugar – 1 tbsp
*
For the dough:
Butter – 200 g + 20 g (for chocolate)
Sunflower oil – 1 tbsp
Sugar – 2 cups (260 g)
Eggs – 4 pcs.
Flour – 1 kg (approx)
Milk chocolate – 200 g
Vanilla
Almond flakes – 40 g
Orange – 1 pc.
Raisins – to taste
*
For decoration:
Milk chocolate – 200 g
Butter – 50 g
Almond flakes
Directions
Pour the raisins with boiling water and leave while we prepare the dough.
We heat the milk, but not too much so that it is not hot (about 35 degrees), otherwise the yeast will die. We mix milk with sugar and yeast. We dissolve yeast well in milk. Add flour to make a pancake-like dough (see video).
We leave the dough in a warm place for proofing. For this I use a multicooker, turning on the "Proofing dough" or "Multipovar" mode (temperature – 35 degrees) for 30-40 minutes.
Beat the eggs until thick foam. Add all the regular and vanilla sugar at once, beat again for 5-10 minutes to dissolve the sugar as much as possible.
Rub the orange zest on a fine grater, without touching the white bitter part.
Squeeze the juice from a whole orange.

Dough came up. Add melted but not hot butter (200 g) there.
We put the raisins on a sieve, then add to the dough.
Pour in orange juice and pour in the zest.
Add the almond flakes, leaving some for decoration.
We introduce the egg mass and mix. (If you want the whole dough to be chocolate, add melted chocolate at this stage. But I like it when the Easter cakes are two-colored, so I add chocolate at the end.)

Add enough flour to make the dough gooey and sticky to your hands. Pour vegetable oil on top and stir with a spoon. (Wet cakes are made from this dough. If you do not like such pastries, add more flour.)
Melt the chocolate with a slice of butter.
Add a few tablespoons of chocolate to the dough and mix, but not until smooth. We leave the dough in a warm place for 1 hour to come up. During this time, it needs to be besieged once.
We cover the forms for cakes with parchment. We spread the dough there, filling in a little more than half of the form.
We send the cakes to the oven, preheated to 50-100 degrees, so that they come up again. We increase the temperature to 160-180 degrees and bake chocolate Easter cakes with raisins for 30 minutes. We check the readiness with a toothpick.
We take out the cooled cakes from the molds. Leave for 4-6 hours to cool completely. Melt the chocolate with butter and cover the top of the cakes.
Sprinkle with almond flakes.
Easter cakes with raisins and chocolate are ready. We leave for a day.
Also Like
Comments for "Chocolate Cake for Easter"