Custard Easter Cake
by Editorial Staff
Delicious, slightly moist Easter cake on choux pastry according to an adapted recipe from a 1927 cookbook.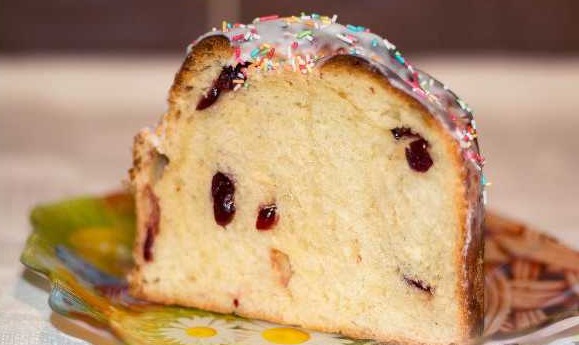 Ingredients
Flour – 350 g
Cream (10-20%) – 200 ml
Egg yolks – 6 pcs.
Butter (soft) – 100 g
Sugar – 100 g
Salt – ½ teaspoon.
Dry fast-acting yeast – 6 g
or ordinary dry yeast – 8 g
or fresh yeast – 15-20 g
Raisins – 80 g (half a glass)
Vanilla – 1 teaspoon
Cardamom (or lemon zest, ginger) – 1/2 teaspoon
Rum or cognac (optional) – 1 tbsp
Directions
Rinse the raisins. If the raisins are hard, pour boiling water for half an hour. Then drain the water. Add rum (or cognac) to the raisins.
Dissolve yeast in 30 ml of warm cream.
Separate 2 tablespoons of flour and add the remaining cream, brought to a boil.

Pound into a homogeneous mass, cool and mix with yeast.
Leave the dough to come up to double the volume.
Mix the rest of the flour with the salt and cardamom.
Whisk the yolks with sugar and stir in the vanilla and 80 g of soft butter.
Mix the matched brew with yolks, butter, flour.
Knead to a homogeneous dough.
Place in a warm place.
The yeast dough should double in size.
Place the dough that has come on a greased table and divide into 5 pieces.
Round each part of the dough, leave for 15 minutes, and then roll into flat cakes.
Brush the first flatbread with soft or melted butter and top with the raisins. Place the second cake with an overlap on it so that it goes halfway.

Also grease the tortilla with butter, put the raisins and cover halfway with the next tortilla. And so does everyone else.
Roll the tortillas into a roll.
Cut the roll crosswise into two pieces.
Approximately the same volume.
Place the future cakes in the molds with a cut down and let them come up at least one and a half times.
Then brush with an egg and bake the custard cakes in a preheated oven at 170 ° C for about 40 minutes.
Decorate Easter cakes with your own artistic taste. Can be glazed with sprinkles.
Or you can simply sprinkle with icing sugar.
Bon Appetit!
Also Like
Comments for "Custard Easter Cake"