Cherry Custard Cake
by Editorial Staff
Summer is the time to bake pies and cakes with berries or fruits. Here's a recipe for a cake with cherries and custard. Extraordinarily tender, moderately sweet, tasty and elegant.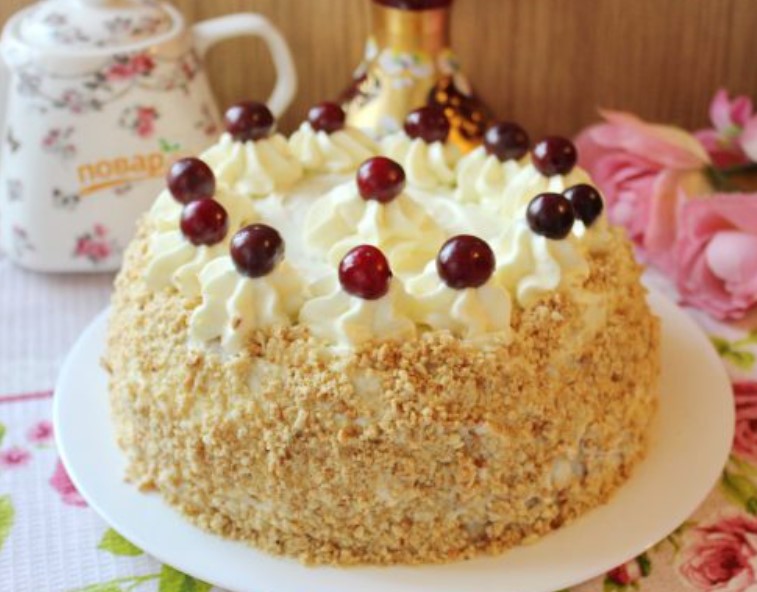 Cook: 2 hour
Servings: 10
Ingredients
Chicken Egg – 4 Pieces
Sugar – 230 grams (180 grams – in the dough, 50 grams – in the cream)
Vanilla Sugar – 1 Teaspoon
Wheat flour – 150 grams
Dough loosener – 1 teaspoon
Milk – 600 Milliliters (in cream)
Corn starch – 4 Art. spoons (no slide)
Butter – 100 grams (in cream)
Fresh cherry – 250 Grams
Peanuts – 100 Grams (for sprinkling the cake)
Chicken egg yolks – 3 Pieces (in cream)'
Directions
Prepare the ingredients for making the cake.

Separate the whites from the yolks and place in a deep bowl.
Whisk into a thick, stable foam.
Gradually add 150 grams of sugar in small portions, without ceasing to beat the whites. You should get a thick, dense mass.
Add yolks to this bowl. Whisk lightly again or stir with a spatula until smooth.
Add baking powder and flour in small portions.
Stir the cake dough gently.
Bake the cake in the oven at 170-175 degrees for 40-45 minutes. I baked in a slow cooker with a mold dia of 18 centimeters. Check readiness with a dry stick.

Wash the cherries, remove the seeds.
Make a custard. Pour milk into a saucepan and place on the stove.
In a bowl, mix 3 yolks and 50-60 grams of sugar. Use sugar to taste, taking into account the fact that the cake will contain sour cherries. Then pour in 3 tablespoons of cold milk and add cornstarch. Stir well without lumps.
When the milk starts to boil, pour the prepared mixture of yolks, milk, starch and sugar into it.
Bring the cream until thick, stirring constantly. Add butter and vanilla sugar to the hot cream, mix well. Then send the cream to the refrigerator.
Cool the sponge cake and cut into two or three pieces lengthwise, depending on the dia of the cake. Lubricate the cake with cream.
Spread the pitted cherries on it.
Cover with a second crust and brush with cream as well and add the cherries. Then cover with a third crust and brush the top and sides of the cake with cream. Calculate the cream so that there is enough to decorate the cake.
Decorate the cake to your liking. I planted roses from a culinary bag with a nozzle.

Sprinkle the sides of the cake with chopped nuts and place the cherries on the roses.
Let the cake soak for 2-3 hours and serve.
Bon appetit!
Also Like
Comments for "Cherry Custard Cake"