Profiteroles (Custard Cakes)
by Editorial Staff
Profiteroles are small choux pastry cakes. I recommend the tried and tested custard recipe. A delicious delicate cream based on pastry cream, eggs and honey is used as a filling. Be sure to try this recipe!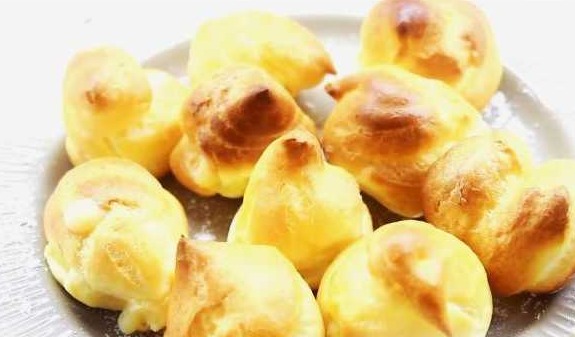 Servings: 6
Cook: 50 minutes
Ingredients
For the dough:
Butter – 100 g
Milk – 125 ml
Water – 125 ml
Eggs – 5 pcs.
Flour – 150 g
Powdered sugar – 1 teaspoon.
Salt – 1 pinch
Vanilla sugar – 2 g
For the cream:
Confectionery cream – 500 ml
Eggs – 6 pcs.
Honey – 1 tbsp
Directions
Combine water, milk and butter in a saucepan.
Put the saucepan on the fire and bring to a boil over low heat.
After boiling, stirring slowly, add 150 g of flour. Knead the dough until smooth, trying to break all the lumps.
Cool the finished dough to room temperature and, stirring thoroughly, add eggs one at a time (5 eggs in total).
Add vanilla sugar, powdered sugar and a pinch of salt to the last egg.
Pour this mixture into the dough.
Mix thoroughly.
Making a cream. Heat the pastry cream over medium heat, but do not bring it to a boil.
Break 6 eggs into a separate bowl.
Beat the eggs thoroughly, add honey and mix.
Stirring constantly, add eggs and honey into warm cream. We put the resulting mass on fire and, without stopping stirring, bring to a boil. The cream should brew and thicken. We stir for 5 minutes over medium heat. The custard is ready, let it cool.
Be sure to moisten the baking sheet with water, cover it with parchment paper on top and use a pastry syringe to beautifully form small custard cakes.

We bake profiteroles in a preheated oven at 190 degrees for 15 minutes. Then reduce the oven temperature to 160 degrees and bake for another 5 minutes.
We take profiteroles out of the oven.

Fill the custard cakes with honey cream.
Bon Appetit everyone!
Also Like
Comments for "Profiteroles (Custard Cakes)"