Mom's Easter (Easter Cake)
by Editorial Staff
My mom bakes delicious Easter cakes. Here, I want to share her recipe for butter cake for Easter. If mom baked Easter (Easter cakes), there is no doubt – they are always delicious!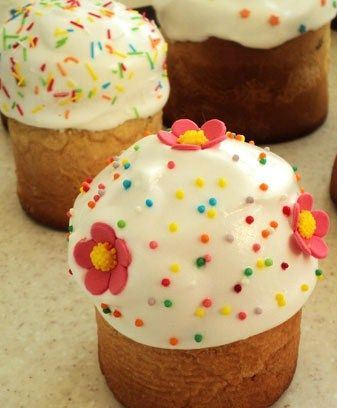 Ingredients
Wheat flour – 900 g
Fresh yeast – 50 g
Granulated sugar – 250 g
Eggs – 4 pcs. (3 yolks + 1 whole egg for the dough and 3 whites for the icing)
Butter (can be replaced with margarine) – 180 g
Milk – 300 g
Cardamom (seeds) – 7-8 pcs. (grind in a mortar)
Nutmeg – 0.5 flat teaspoon
Cognac (can be replaced with vodka) – 2 tablespoons
Raisins – 50 g
Vanilla
Directions
Sift the flour through a sieve, you can even sift it twice.
Dissolve yeast in warm milk at room temperature, stir, pour into a container in which you will knead the dough for Easter cake. Add softened butter (we used margarine, and did not melt).
Add egg and yolks. Stir, add sugar, vanillin, chopped cardamom, nutmeg, pour in brandy.
Stirring constantly, add the sifted flour in portions. When the dough begins to easily lag behind the hands, as in the photo, then the dough for Easter is ready.

The dough for the Easter cake should not be steep in any way, in the Easter cake it is always soft, it feels associatively like an earlobe.
Wrap the dough. Usually I cover it on top with cling film, cover it with a towel or a blanket. Leave to come up in a warm place, you can put it on a windowsill, in the sun. Butter dough is suitable for a long time, for 5-6 hours. It is not advisable to keep the dough longer, it can acidify.
When the dough has at least doubled in size, knead it well again, add the raisins, knead to distribute the raisins evenly over the dough.
In the meantime, the forms for the cakes should already be prepared. Separate a piece of dough, the size of the piece should correspond to the third part of the form in which you will bake the cake.
Put the separated portion of the dough on a floured table. We knead for 3-4 minutes, and put in a mold.
And so for each form.
When all the baking dishes are filled with dough, we leave them for proofing. The dough should rest and increase in size.

We bake Easter cakes in an oven preheated to 190-200 degrees. The baking time depends on the oven and the size of the cakes. Naturally, large ones will take longer to bake, small ones faster. Test Easter cakes for readiness with a wooden stick, match, or toothpick.
Ready and cooled cakes are poured or greased with glaze. Decorate with powder on top.
Also Like
Comments for "Mom's Easter (Easter Cake)"