Chocolate Coffee Cupcakes with Raspberry Confit
by Editorial Staff
Who among us does not indulge ourselves and our loved ones with delicious desserts? Here's a recipe for chocolate coffee cupcakes with a little surprise inside. These cupcakes are prepared like a biscuit in boiling water with the addition of hot coffee. Cupcakes are very fragrant, airy, moist, with sweet and sour raspberry confit inside. Top of the cupcakes are covered with a "cap" of the most delicate chocolate butter cream on Italian merengue. A great combination of flavors!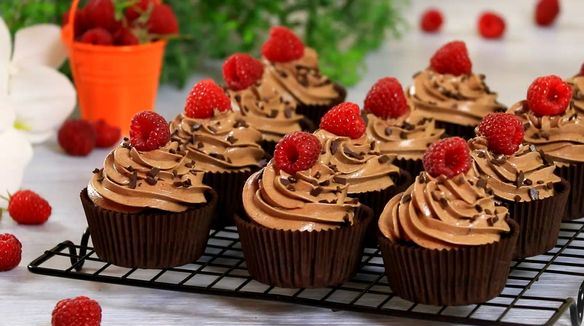 Ingredients
For raspberry confit:
Raspberries (fresh or frozen) – 250 g
Sugar – 75 g
Fruit pectin NH – 5 g
*
For the test:
Flour – 185 g
Cocoa powder (dark) – 50 g
Baking dough – 5 g
Salt – 1 pinch
Butter 82.5% (room temperature ° С) – 115 g
Sugar – 200 g
Eggs (room temperature ° С) – 2 pcs.
Milk (warm) – 120 ml
Espresso coffee (boiling water) – 120 ml
*
For cream on Italian merengue:
Butter 82.5% (room temperature ° С) – 250 g
Egg whites (room temperature ° С) – 3 pcs. (90 g)
Citric acid – 1 pinch
Water – 50 ml
Sugar – 110 g
Vanilla extract – 1 teaspoon
Dark chocolate (melted) – 100 g
Directions
Cooking raspberry confit. Place fresh raspberries in a blender bowl and chop until puree. If you have frozen raspberries, then you must first defrost them.
We transfer the chopped raspberries to a sieve and wipe them to get rid of small bones.
Put the raspberry puree in a saucepan. We put on medium heat and heat to 50 ° C.
While the raspberry puree is heating up, combine sugar and NH pectin in a small bowl. Mix well.
Add sugar and pectin to the raspberry puree "rain", continuously stirring the mixture with a whisk.

Bring the raspberry confit to a boil and cook for about 1 minute.
Remove the saucepan from the stove, pour the confit into a clean bowl and cool to room temperature.
Punch chilled confit with an immersion blender until smooth and smooth.
Then we transfer the finished raspberry mass into a pastry bag with a round nozzle.
Cooking dough for cupcakes. Combine flour, dark cocoa powder, baking powder and a pinch of salt in a small bowl. Sift through a sieve, mix thoroughly with a whisk and set aside.
In another bowl, combine room temperature butter and sugar. Beat for 2-3 minutes.
Without stopping beating, add eggs one at a time, beating well after each added egg.
Add warm milk and vanilla extract. Beat on a low speed mixer until smooth.
Add dry ingredients and beat everything thoroughly until smooth.
At the very end, pour in hot coffee and beat at a low mixer speed until smooth. The hotter the liquid is, the better the cocoa will brew and give off its flavor. This gives the cupcakes a deep, dark brown color. The dough turns out to be a little thin, don't worry, this is normal.
Place the disposable paper capsules in the cupcake mold. We fill paper forms about half. It is very convenient to use an ice cream spoon for this.
We bake the chocolate cupcakes in an oven preheated to 180 ° C for 20-25 minutes or until the toothpick inserted in the center comes out dry.
After baking, let the cupcakes cool slightly for 5 minutes. Then we remove the cupcakes from the mold, put them on the wire rack and leave to cool completely.
While the cupcakes are cooling, prepare the butter cream on Italian merengue. There is already a recipe on my blog where I explain in detail how to make this cream (see the link in the list of ingredients). We do everything as shown in the recipe, only at the end we add vanilla extract, melted dark chocolate and beat well.
Let's start filling and decorating cupcakes. In each cupcake, we cut out the middle using a fruit cored knife or a special cupcake plunger – this is a very handy tool.
Fill in the cut holes of each raspberry confit cupcake.
Put the finished cream in a pastry bag with a figured nozzle "Wilton (Wilton) 1M". We decorate each cupcake by making cream "hats".
Sprinkle the cupcakes with chocolate chips on top and garnish with fresh raspberries.
These ingredients make 18 small chocolate coffees.
Also Like
Comments for "Chocolate Coffee Cupcakes with Raspberry Confit"