Chops With Ketchup and Coca Cola
by Editorial Staff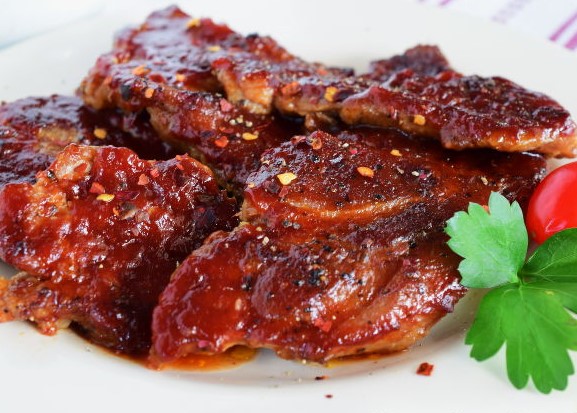 Tasty, juicy, beautiful, unusual – this is how you can describe this meat dish. I suggest you cook pork chops with Maheev "Shashlichny" ketchup and Coca-Cola to feed your family deliciously!
Cook: 1 hour
Serving: 4
Ingredients
Pork (pulp) – 600 g
Coca-Cola – 200 ml
Ketchup Maheev "Shashlik" – 5 tbsp
Vegetable oil – 1 tbsp
Salt to taste
Ground black pepper – to taste
Directions
Prepare the required foods. Pork neck or chop is best for chops.
How to make ketchup and Coca-Cola chops:
Cut the pork into slices.
Use a hammer to lightly beat off the meat.

Season the pork chops with salt and pepper on both sides.
Heat vegetable oil in a frying pan and fry the meat on both sides for 1-2 minutes.
Mix the ketchup Maheev "Shashlik" and Coca-Cola.
Pour 2 tablespoon into a baking dish. spoons of cooked sauce
Arrange the pork chops in one layer.
Pour the remaining sauce over the meat. Place the chops with ketchup and coca-cola in the oven, preheated to 180 degrees, for 20 minutes.

Pork chops with ketchup and coca-cola are ready.
Serve pork chops hot, with boiled rice or mashed potatoes.
Bon appetit!
Also Like
Comments for "Chops With Ketchup and Coca Cola"