Sponge Cake with Condensed Milk "Bottle of Coca-Cola"
by Editorial Staff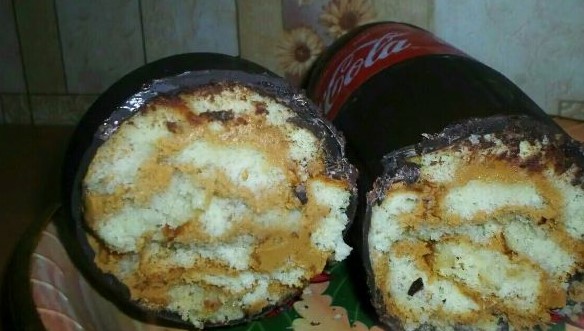 Do you want to surprise your family and friends with a delicious and original cake? Then this recipe for a sponge cake with condensed milk cream and chocolate is for you. No one will immediately guess that this is a cake. 🙂 The cake in the form of a bottle of "Coca-Cola" turns out to be very effective and, of course, very tasty!
Ingredients
For the biscuit:
Eggs – 5 pcs.
Sugar – 5 tablespoon.
Flour – 5 tablespoon.Salt – 1 pinch
Vanillin – to taste
For the cream:
Condensed milk boiled – 1
Butter – 200 g
For syrup:
Water – 1 tablespoon.
Sugar – 5 tablespoon.
Vanillin – a pinch
Chocolate – 400 g
Besides products:
Plastic bottle "Coca-Cola" (2 l)
Directions
First, you need to bake a classic vanilla sponge cake for 5 eggs. Then we prepare the syrup for impregnation. In a saucepan, mix water, sugar, vanillin. Bring to a boil and cool.
Preparing a plastic bottle. Well wash it, remove the lid, ring, and label.
Cut out a rectangular hole in the center of the bottle, about 5×15 cm.
Cut the biscuit into strips.

Break half of the chocolate and melt it in a water bath or in the microwave.
Pour chocolate into a bottle. We distribute the chocolate over the entire surface. We put the bottle on the plate with the hole down to stack the excess chocolate.
Then put in the refrigerator until the chocolate is completely frozen.
At this time, soak the biscuit with sugar syrup.
Preparing the cream. Beat soft butter with a mixer for 3 minutes.
Add condensed milk and whisk again.
Then break and melt the second piece of chocolate. Cool slightly and pour into the bottle with a second layer (leave 2-3 tablespoons of chocolate). Distribute, drain the excess, and put it in the refrigerator.
We collect the cake. Lubricate the bottle with chocolate from the inside with a thin layer of cream.

We put a biscuit inside the bottle. Lubricate with cream. Thus, we collect the cake. Lay neatly and tightly so that there are no voids.
Lubricate the top with the left chocolate.
We level and put a sponge cake with condensed milk cream and chocolate in the refrigerator for a couple of hours so that the cake solidifies well.

Using small scissors or a clerical knife, carefully cut off the plastic bottle into small pieces.
Then on the chocolate "bottle", we glue the label on the drop of chocolate.
We put on the ring and the bottle cap.
The Coca-Cola cake is ready.
You need to cut a sponge cake with condensed milk and chocolate with a hot knife.

An unusual cake turns out to be beautiful and tasty. I advise you to cook.
Bon Appetit!
Also Like
Comments for "Sponge Cake with Condensed Milk "Bottle of Coca-Cola""