Chocolate Сake with Coca-Cola
by Editorial Staff
One of the original baking recipes today for you, how to make Coca-Cola chocolate pie. The result is a delicious birthday cake with a moist and juicy crust texture and rich icing.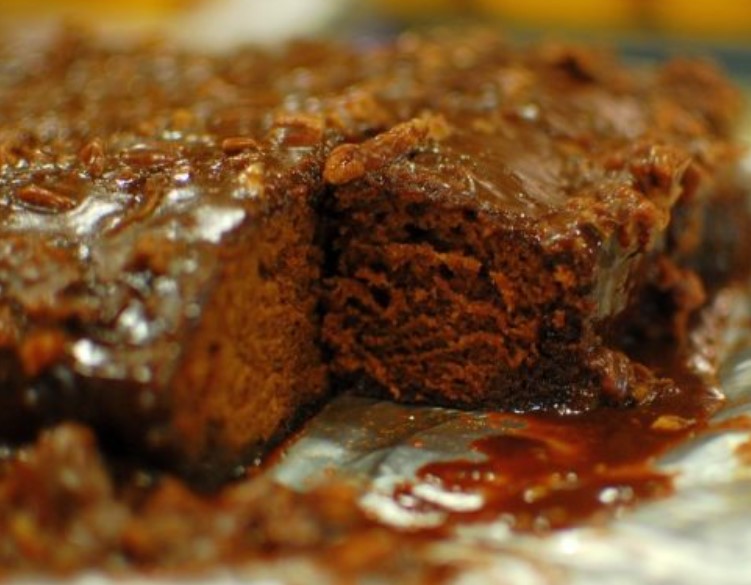 Cook: 2 hours 20 mins
Servings: 10 mins
Ingredients
Flour – 2 Glasses
Sugar – 2 Glasses
Soda – 1 Teaspoon
Salt – 1 Teaspoon (0.5 teaspoons for dough, 0.5 teaspoons for icing)
Butter – 240 Grams (120 grams for dough, 120 grams for icing)
Vegetable oil – 0.5 cups
Coca-Cola – 1 Glass (1 glass for dough, 6 tablespoons for icing)
Cocoa – 6 Art. spoons (3 tablespoons for dough, 3 tablespoons for icing)
Marshmallows – 1.5 Glasses
Buttermilk – 0.5 cups (you can make yourself if you mix 0.5 cups of milk + 1 teaspoon of vinegar)
Eggs – 2 Pieces
Vanilla Extract – 2 Teaspoons (1 teaspoon for dough, 1 teaspoon for icing)
Powdered Sugar – 4 Glasses
Pecan – 1 Glass
Directions
Add sugar, flour, baking soda and 0.5 teaspoons of salt to a bowl

Put 120 grams of butter, vegetable oil, 3 tablespoons of cocoa, 1 glass of cola in a saucepan. Send the saucepan to the fire and after boiling add the marshmallows, immediately remove from the heat.
Pour the hot mixture into the flour mixture, beat with a mixer.
Add buttermilk to the dough (if not, mix milk with vinegar), eggs and 1 teaspoon of vanilla, stir.
Line a baking dish with foil, brush with butter and pour the dough into it. Bake the cake in an oven preheated to 180 degrees for 35-40 minutes.
A few minutes before the end of baking the cake, make the icing: in a saucepan, mix 120 grams of butter, 0.5 teaspoons of salt, the remaining cocoa and cola, heat the mixture over medium heat and bring everything to a boil.
Add powdered sugar to a bowl, pour over the prepared hot mixture, add vanilla and chopped nuts, stir.
Remove the cake from the oven and let it cool in the pan for a few minutes, then cover the warm cake with the icing and leave to cool completely.

Cut the cooled pie into slices and serve.
Bon appetit!
Also Like
Comments for "Chocolate Сake with Coca-Cola"