Coconut Waffles with Whipped Cream
by Editorial Staff
Recipe for making waffles with coconut flakes and whipped cream with maple syrup.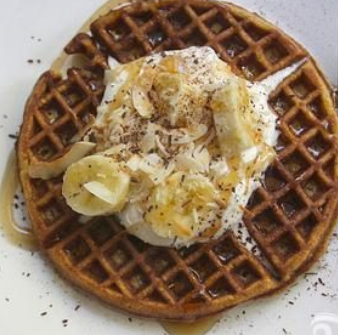 Cook: 30 mins
Serving: 5
Ingredients
Toasted coconut flakes – 1/3 Cup
Melted coconut oil or unsalted butter – 4 Tbsp spoons
Eggs – 6 Pieces (large)
Agave Nectar – 1/4 Cup
Vanilla extract – 1 teaspoon
Salt – 1/4 Teaspoon
Soda – 1/2 Teaspoon
Coconut flour – 1/3 Cup
Banana puree – 2 Tbsp. spoons
Maple syrup – 2 Tbsp. spoons (whipped cream)
Maple Syrup Whipped Cream – To taste (see recipe below) filling)
Banana Pieces – To taste (filling)
Chocolate Chips – To taste (filling)
Directions
Preheat the oven to 175 degrees with the rack in the center. Place the coconut on a baking sheet and bake in the preheated oven for about 6 minutes, until golden brown. Remove from oven and set aside.
In a medium bowl, beat the coconut oil, eggs, agave nectar, vanilla extract, and banana puree. In a small bowl, combine coconut flour, salt and baking soda.
Add flour mixture to egg mixture and whisk. The mixture will begin to thicken. Add toasted coconut and stir. Let the dough stand for 5 minutes while you plug in and heat the waffle iron.

If you have a round waffle iron, use about 3/4 of the dough for each waffle.
To make the whipped cream, whisk the heavy cream and maple syrup in a bowl.
Place the waffles on portioned plates. Place a large amount of whipped cream on top. Garnish with a few banana slices and chocolate chips on top. Sprinkle the coconut on top and serve.
Bon appetit!
Also Like
Comments for "Coconut Waffles with Whipped Cream"