Whipped Cream Profiteroles
by Editorial Staff
Delicious, airy custard cakes, with a thin golden brown crust and a delicate creamy cream that melts in your mouth.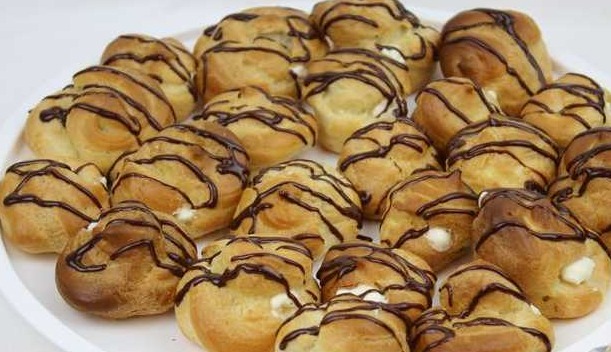 Ingredients
For the dough:
Butter – 150 g
Water – 1.5 cups
Wheat flour – 1.5 cups (250 ml glass)
Eggs – 4-5 pcs.
Salt – 0.5 teaspoon
Sugar – 0.5 teaspoon
For the cream:
Fat cream 33% – 350 ml
Powdered sugar – 80 g
Vanilla sugar – 1 sachet
For ganache:
Milk chocolate – 50 g
Fat cream – 50 ml
Butter – 10 g
Directions
Sift flour.
Pour water into a saucepan with a thick bottom or a saucepan, add salt, sugar and butter (I cut the butter into cubes, this way it melts faster).
Place the saucepan over medium heat. Stir until the oil is completely dissolved in water, until smooth. Bring to a boil and remove from heat.

Pour all the flour into a saucepan. Stir well with a wooden spatula so that no lumps remain.
Return the pan to low heat and stir the dough well for minutes 2. The choux dough should gather well into a smooth lump, and a thin whitish film will remain at the bottom of the stewpan. Remove the pan from the heat.
Transfer the dough to a larger bowl, cool a little. Add 4 eggs one at a time to the choux pastry, stirring the dough each time until smooth. It will become elastic and glossy. The fifth egg must be added with care, maybe even part of the egg, stirring it slightly separately, as the choux pastry should not be too runny. But the dough should not be thick, but flow smoothly from the shoulder blade.
Transfer the dough into a pastry bag with a 10 mm nozzle.
Turn on the oven and preheat to 200 degrees. Cover the baking sheet with parchment.
Place the dough on parchment in the form of round profiteroles in a checkerboard pattern (you can spread the dough on a baking sheet with a teaspoon). Choux pastry needs good air circulation to rise.
Put a baking sheet with cakes in an oven preheated to 200 degrees. Reduce temperature to 180 degrees and bake profiteroles until golden brown, about 30 minutes. The oven must not be opened during baking (at least for the first 15 minutes) so that the custard cakes do not fall off.

To prepare the cream for the cakes: beat the cream with powdered sugar and vanilla sugar until fluffy.
Cool the finished profiteroles and fill with butter cream (you can use a pastry syringe).

Prepare chocolate ganache: send chocolate and butter to hot cream, mix until smooth.
Pour the chocolate ganache over the custard cakes with whipped cream.
Have a nice tea!
Also Like
Comments for "Whipped Cream Profiteroles"