Eclairs with Whipped Cream
by Editorial Staff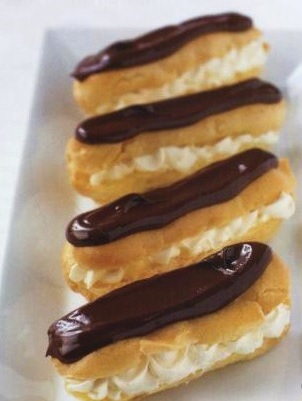 Everyone's favorite custard cakes are baked quickly and easily. No intricacies, no experience is needed, even an inexperienced in cooking can handle the recipe. Instead of the traditional custard – whipped cream (by the way, without sugar – for those who prefer not too sweet desserts). What's good, eclairs can be baked in advance, left in an airtight container (even frozen), and then filled with cream.
Ingredients
Butter – 6 tbsp
Flour – 1 ½ cups
Large eggs – 3 pcs.
Fat cream – 2 cups
Black chocolate – 200 g
Directions
Preheat oven to 200 degrees. Fill in the oil with 2 cups of cold water. Melt, bring to a boil, and remove from heat. Pouring in a little and constantly stirring with a wooden spoon, add flour (make sure that there are no lumps). The mass must be thick enough.
Beat in the eggs one at a time, stirring the dough each time until smooth. Pour the dough into a piping bag or syringe.
Cover 2 baking sheets with parchment and squeeze outstrips about 5 cm long (about 30 pieces). Bake the cakes for 20-25 minutes. Remove the eclairs from the oven and cut them lengthwise on one side. Place in the oven for another 5 minutes, remove and cool completely.
Whip the cream until thick and fluffy (you can add powdered sugar to taste). Fill the eclairs with whipped cream (with a spoon or using a pastry bag). Break the chocolate into pieces, melt it in a water bath, and pour the chocolate over the eclairs.
Enjoy your meal!
Also Like
Comments for "Eclairs with Whipped Cream"