Couscous with Carrots and Garlic
by Editorial Staff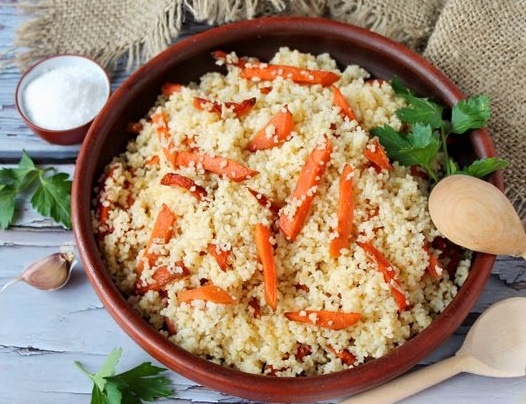 A very quick and easy dish made from regular carrots and couscous. While the couscous is steaming, the carrots are fried with garlic, sugar, and aromatic spices. When combined, delicate couscous perfectly absorbs the sweetish and slightly spicy taste of carrots.
Ingredients
Couscous – 100 g
Carrots – 150 g
Garlic – 1 clove
Zira (seeds) – 0.5 teaspoon
Sugar – 1 teaspoon
Ground paprika – 0.25 teaspoon
Salt – 0.25 teaspoon
Vegetable oil – 30 ml (2 tablespoons)
Directions
Prepare all the ingredients you need.

Bring water (200 ml) to a boil in any way. Pour couscous into a saucepan and add half of the salt, stir.
Pour boiling water over the couscous, cover the pot and leave for 5 minutes.
After a while, remove the lid and stir the couscous with a spoon.
While the couscous is steaming, tackle the carrots. Peel the carrots, rinse and cut into thick strips, about 0.5 cm thick.
Pour vegetable oil into a pan and heat over medium heat, put carrots.
Fry the carrots, stirring, for 5-6 minutes, until soft.
Sprinkle the sugar on the carrots and season with the remaining salt.
Sprinkle the carrots with paprika and cumin.
Chop the peeled garlic and add to the carrots.
Mix everything and cook for another 2 minutes.
Combine ready-made couscous and carrots, stir. Couscous with carrots and garlic is ready. It can be a stand-alone dish, or it can be an excellent side dish for meat or fish.
Enjoy your meal!
Also Like
Comments for "Couscous with Carrots and Garlic"