Crispy Onion Rings
by Editorial Staff
Golden, deep-fried onion rings are a recipe for American cuisine, which, although it is difficult to call healthy, is, at the same time, appetizing and attractive to many American snacks. You can fry onion rings in beer batter, but I suggest making onion rings breaded with dry crackers crumbs and fermented milk batter – you get a great crisp crust.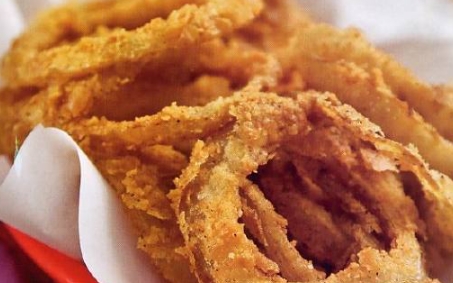 Servings: 5
Ingredients
Large onions – 2 pcs.
Buttermilk – 1 glass
(You can replace buttermilk with sour milk – stir a spoonful of lemon juice in a glass of milk and wait for a little. As a last resort, you can use unsweetened yogurt or low-fat kefir.)
Egg – 1 pc.
Crumbled crackers – 100-150 g
Flour – 1 cup (130-150 g)
Salt – 1 teaspoon
Chili pepper (hot) – 1 teaspoon or to taste
Vegetable oil – up to 1.5 liters (the amount depends on the shape and volume of the deep-
frying dish)
Directions
Cut the onion into rings 0.5-0.7 cm thick.
Toss the buttermilk with the egg.
Toss together the crackers, flour, salt, and hot pepper separately.
Pour the oil into a cauldron (10 cm high) and heat it up. Dip the onion rings in the buttermilk and flour with the crumbs.
Gently dip the onion in deep-fat portions and fry for 2-3 minutes.
Pat dry on a paper towel.
Serve hot fried onion rings immediately.
Enjoy your meal!
Also Like
Comments for "Crispy Onion Rings"