Cutlets "Ala-too"
by Editorial Staff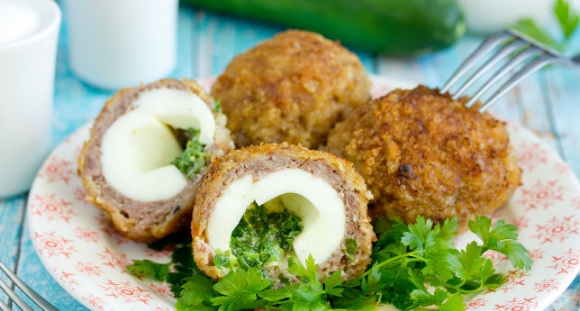 Ala-too cutlets are a traditional Kyrgyz dish of lamb or ground beef stuffed with a boiled egg and aromatic green butter. Such cutlets turn out to be quite large, in the context they look impressive and appetizing, besides, they are also very tasty.
Cook: 1 hour
Servings: 6
Ingredients
Minced beef or lamb – 600 g
Chicken eggs – 7 pcs.
Butter – 100 g
Parsley greens – 0.3 bunch
Bulb onions – 1 pc.
Garlic – 3 cloves
Bread crumbs – 100 g
Sunflower oil – 80 ml
Salt to taste
Ground black pepper – to taste
Directions
Start cooking cutlets with green oil. In a bowl, combine soft butter, chopped parsley, salt and black pepper.
Toss the oil with herbs, salt and pepper.
Now we need to shape the oil into balls. There are two options: you can put the oil in the freezer for 10-15 minutes, and when it freezes, take out and roll the balls, send them back to the freezer; and you can use silicone molds for sweets in the form of a hemisphere. I had such a mold, so I used the last option (you just need to decompose the green oil after stirring with a teaspoon into the cells and put it in the freezer to solidify).

To prepare minced meat in a bowl, combine minced lamb or beef, chopped onion, garlic passed through a press, salt and black pepper.
Stir the minced meat and be sure to beat it off so that it becomes plastic. To do this, take the minced meat in your hand and throw it with force into the bowl 20 times.
Boil 6 hard-boiled eggs (10 minutes), cool them, peel. Remove the oil and herbs from the freezer. Cut the eggs into halves and remove the yolks – we won't need them. Place butter in the egg whites instead of yolks.

Combine the egg whites and butter into one egg. Divide the minced meat into 6 equal parts. Take a piece of minced meat and shape it into a palm-sized cake. Place a butter-filled egg in the center of this tortilla. Wrap the egg in the minced meat to make a cutlet.

Also prepare the rest of the patties.
Swirl an egg with a pinch of salt in a bowl. Pour the breadcrumbs into another bowl. Dip the cutlets one by one into the egg mixture, then bread in breadcrumbs.
As the breading progresses, place the cutlets in a pan with already heated oil. Fry the cutlets on all sides until golden brown.
Put the fried cutlets into a mold and bake in the oven at 200 degrees for 15 minutes.

Meat cutlets "Ala-too" stuffed with boiled eggs and green butter are ready, serve them hot with garnish. Enjoy your meal!
Also Like
Comments for "Cutlets "Ala-too""