Fish Stewed in Tomato Sauce with Mushrooms
by Editorial Staff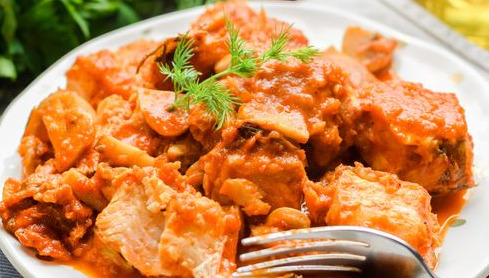 This recipe is for fish lovers and those who don't like to bother too much about cooking. Today we are preparing hake with mushrooms in tomato sauce. The presence of champignons will make the dish hearty and aromatic, and the sauce will add juiciness to the fish. I have already checked more than once – the fewer ingredients in the composition of the dish, the tastier and more appetizing it turns out!)
Servings: 3
Ingredients
Hake (pollock or cod) – 350 g
Champignons – 250 g
Tomato sauce – 400 ml
Salt to taste
Ground black pepper – to taste
Vegetable oil – 45 ml (3 tablespoons)
Directions
If necessary, remove scales from the hake carcass. Make an incision in the abdominal cavity, remove the black film and entrails. Cut the fish into portions.
It is better to wipe the champignons with damp wipes or a kitchen towel so that the mushrooms do not absorb excess moisture. Cut the mushrooms into medium-sized slices.
Warm up the pan, grease with vegetable oil (2 tablespoons). Put the fish in the pan, fry on each side for 1-1.5 minutes. There is no need to fry the fish, it should just grab a little.
In a separate frying pan, heat a little vegetable oil (1 tbsp), put the mushrooms. Fry over medium heat, stirring with a spatula, 3-4 minutes.
Add mushrooms to fish.
Next, pour the tomato sauce into the pan, add salt and ground pepper to taste. Cover the pan with a lid, reduce heat to low so that the sauce boils slightly under the lid.
Cook fish and mushrooms for 25-30 minutes, until tender.
Put the fish stewed in tomato sauce with mushrooms on plates and serve. Such a fish with mashed potatoes, boiled rice or baked potatoes is good. You can simply serve hake in tomato sauce with fresh bread.
Enjoy your meal!
Also Like
Comments for "Fish Stewed in Tomato Sauce with Mushrooms"