Gingerbread Cookie "Biscuit Man"
by Editorial Staff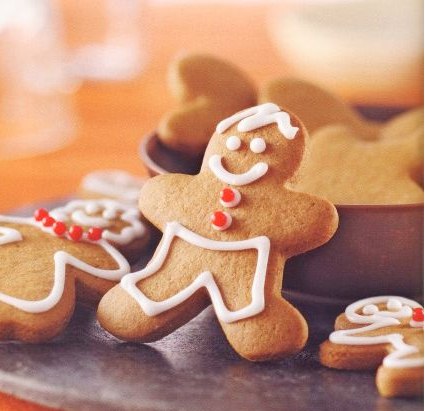 Fragrant gingerbread men.
Ingredients
Flour – 3.5 cups + for rolling out the dough
Brown sugar – 0.5 cups
Butter – 100 g
Treacle – 0.5 cups
Coldwater – 1/3 cup
Soda – 2 teaspoon
Ground ginger – 2 teaspoon
Ground allspice – 0.5 teaspoon
Ground cinnamon – 0.5 teaspoon
Ground cloves – 0.25 teaspoon
Salt – 0.25 teaspoon
*
For decoration:
Powdered sugar – 2 cups
Milk or water – 2 tbsp
Vanilla sugar – 0.5 teaspoon
Food colorant – optional
Candy
Instructions
Leave the oil at room temperature until softened. Preheat the oven to 180 degrees. Cover the baking sheet with parchment.
In a bowl, combine brown sugar, butter, molasses, and water. Beat with a mixer.
Add the rest of the ingredients gradually. Knead the dough, cover, refrigerate for 2 hours.
Divide the dough into two parts. Roll out each piece of dough on a floured surface to a thickness of 0.6 cm.
Cut the men out with a mold (you can use other cookie cutters as well). Transfer the cookies to a baking sheet, leaving a distance of 5 cm between them.
Put the rest of the dough together, knead again, roll out, and cut the cookies.
Bake for 10-12 minutes. Remove the cookies, cool on a wire rack. Before placing the next batch of cookies on a baking sheet, refrigerate the baking sheet for 10 minutes.
In a bowl, mix the icing sugar with water or milk, add vanilla. Stir until smooth. Add food coloring if desired.
Decorate the cookies with icing and candies.
The Gingerbread Man Cookie is ready. Enjoy your meal!
Also Like
Comments for "Gingerbread Cookie "Biscuit Man""