Layered Lemon Cake
by Editorial Staff
Recipe for making a multi-layer cake with a creamy lemon filling and creamy icing. This cake is truly festive and delicious. Great dessert for the New Year and other holidays!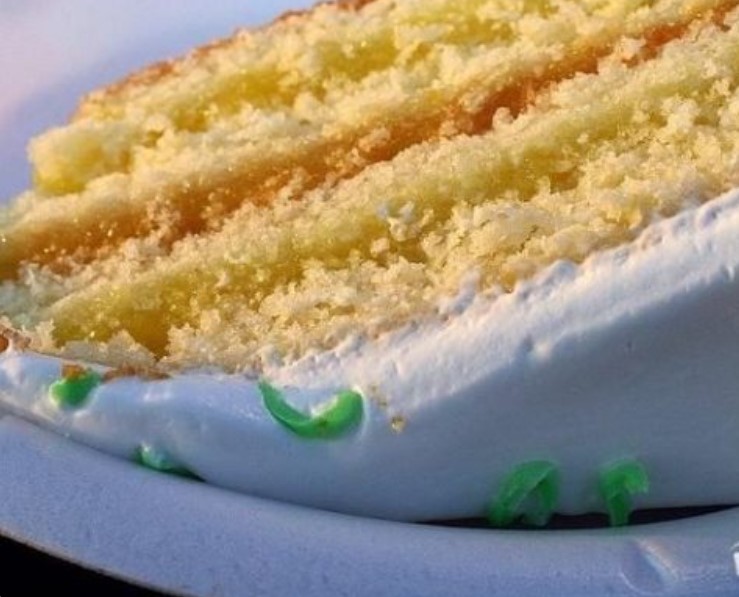 Cook: 1 hour
Servings: 6-8
Ingredients
Butter – 1 Glass
Sugar – 2 Glasses
Eggs – 4 Pieces
Flour – 3 Cups (sift)
Milk – 1 Glass
Vanilla Extract – 1 Teaspoon
Yolks – 8 Pieces (filling)
Sugar – 1.5 Cups (filling)
Butter – 0.25 Cups (filling)
Lemon, zest and juice – 3 Pieces (filling)
Water – 5 Art. spoons (glaze)
Cream – 0.25 Art. spoons (glaze)
Sugar – 1.3 Cups (glaze)
Large eggs – 2 Pieces (glaze)
Corn syrup – 1 Tbsp. spoon (glaze)
Vanilla extract – 1 Teaspoon (glaze)
Nuts or shavings – 0.5-1 cups (optional)
Directions
Preheat the oven to 175 degrees. Use an electric mixer to beat the butter. Add sugar and continue whisking for 6 to 8 minutes.
Add eggs, one at a time, whisking after each addition. Add flour and milk in several passes, starting and ending with flour. Add vanilla extract and beat. Divide the dough evenly among the 4 prepared tins. Hit each mold several times on the table to remove air bubbles. Bake for 25-30 minutes.

To prepare the filling, heat all the ingredients in a double boiler over boiling water. Cook, stirring occasionally until the mixture thickens slightly. Remove from heat and allow to cool.
Cover and refrigerate. The filling should become thick.
To make the frosting, whisk the first five ingredients together in a large bowl. Place the bowl over a saucepan of boiling water about 2.5 cm full. Beat with a mixer on low speed until the mixture reaches 60 degrees. Then beat on high speed for 5 minutes. Remove bowl from the saucepan and add vanilla extract, beat on high speed for 2-3 minutes to cool. Stir in coconut or chopped nuts, if using.
Place one crust on a serving platter and brush with lemon filling. Repeat with the remaining crust and filling.

Grease the top and sides of the cake with the prepared icing.
Bon appetit!
Also Like
Comments for "Layered Lemon Cake"